We all know that we need to have savings as an emergency fund to give us financial peace of mind. But how do you save money when you have no money?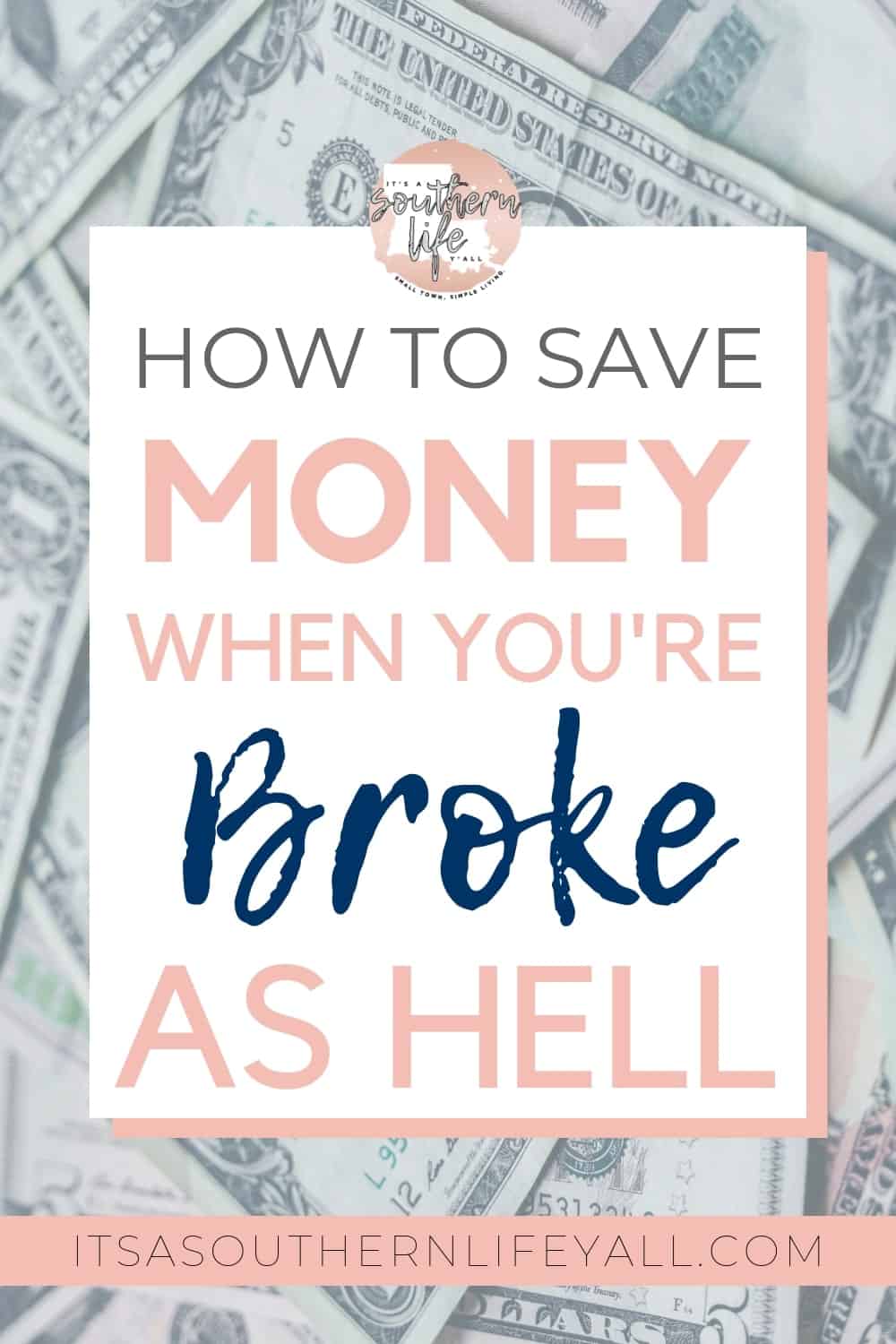 (This post may contain affiliate links. What does that mean to you? Well, if you click on a product and make a purchase, I may receive some compensation at NO charge to you. If you want to read the boring stuff from my full disclosure can be found here.)
You're at your wits end financially and you type into Google the standard how to save money search. You are bombarded with tips to stretch your budget like stop eating out, skip the drive-thru coffee, and to forgo the theater.
I'm well versed in this because not only have I lived it, I have also written some of these exact tips in 5 Easy Ways to Save Money Now.
But what if no spend months are your norm and you are still barely making ends meet? How do you save money when you are broke as hell?
I live paycheck to paycheck, how can I save money?
Anyone who's lived below the poverty level understands exactly how you feel.
You are not alone. According to this poll, 23% of adults in the US have no funds saved for an emergency. I don't think that's by choice!
If you are wondering how to save money when you have no money, just know–you are not alone!
So let's begin with tips on how to save money when you are broke as hell.
Write it All Down
You might know to the penny what you make, but do you know what you spend? It's time you write it all down!
I have discussed this concept in How to Track Your Spending and Stick to Your Budget, but let's scale it down here.
Knowing what you make is only a small portion of budgeting when you are trying to save money when you're broke. You must also be accountable for every penny that you spend. When you take accurate notes on what you spend, you might find you have just a little more than you thought at first.
But I do mean that you must track every penny you spend! Even track your daily 79 cent fountain drink…because that adds up to $205.40 yearly!
Take a week or two or better yet an entire month to write it all down. At the end of the month, take note of new ways you can cut your spending.
Save What You Can
Open up a separate savings account that does not have fees or an opening minimum–and start saving!
Yes! Start saving!
You may only have $1 to put into your savings account, but that doesn't matter.
You have to start somewhere!
I watched a video today by a blogging guru and what he said resonated with me on so many levels…and applies here!
He spoke of the words I wish. Two simple words we all use far too frequently.
I wish–how many times do you say "I wish I had the money for _____"? If you want that "I wish" then you must TAKE ACTION.
So if you want to one day have a nice cushion in savings–STOP saying I wish and open that savings account and START DOING!
If you are still saying, "I live paycheck to paycheck, how can I save money?"…You'll never get to your destination if you don't start. Even if that means you start at just $1.
Cancel the Extras
How many subscriptions do you have? You probably don't even think of these because they are automatic deductions. But if you have Spotify and Hulu, you are spending around $200/year just for the basics.
But there are also gym memberships, wholesale clubs, and more.
Cancel it ALL!
These are all extras when you are searching for how to save money when you have no money. These little expenditures that you don't even think about could add up!
Add all of that to your savings account!
Live Within Your Means
Are you living paycheck to paycheck but aren't able to save money? Or are you finding yourself in a situation where you are unable to pay your bills? Or maybe you are somewhere in between.
Where do you fit on that scale?
If you are in the first scenario, the good news is that you are just living above your means. You do have the means to save, it will just take some work on your part.
Revisit all of your spendings and see what you can do without.
Tighten that belt and buckle down. Cut the extras and say no to your wants and only spend on your needs. I know there is no fun in that, but it is necessary if you want to save some cash.
Trust me, I get it! Sometimes I feel I will lose my sanity if I don't have a glass (or a bottle) of wine. But will I really? It's all about priorities when you are living paycheck to paycheck.
Cutting back on these expenditures will give you nice chunks to add to your savings.
So back to the scale of income…
If you are more toward the bottom of the scale…where you are barely making it work. What can you do to change that situation?
I know that's often easier said than done.
You need to pose difficult questions to yourself and do what it takes to get back on track.
Remember, sometimes a minor setback can be the best thing that happens to you in the long run. I'm proof!
The difficulty in finding a new job led to the creation of this blog. Now, I couldn't be happier!
Do What it Takes
Let's talk further about doing whatever it takes and posing difficult questions.
When you are really broke and are doing great to keep the roof over your head and food on the table type of broke…you have to do whatever it takes.
There is no shame in this and believe me, you are not alone.
Bringing in more cash is the key when you are in this situation.
Downsize…sell stuff…find a side hustle
My blog is still growing. Because of this, I am more than happy to pick up side hustles. I create pins for other bloggers, test websites, and take on freelance writing gigs. There is no shame in doing what it takes to make extra cash…whether that is to get yourself out of a dire situation or to make your dream work.
If you are wondering about website testing, click here to read my post on that. I also have an article on side hustles here.
When you get back on your feet, keep your side hustles and build your savings that way.
What's important is saving even when you wonder how to save money when you have no money!
Putting yourself in the right mindset is the key. Once you have done this, you have tackled half of the battle. The other half is saving money.
Once you are determined to do what it takes–even if that means eating beans and rice for a month–saving money will become easier.
If you are looking for more information on how to pay your bills, check out Half Payment Budget Method: Break the Paycheck to Paycheck Cycle.
Have you explored all avenues for making extra cash? Did you know that you can earn free gift cards just by surfing the web, playing games, watching videos, shopping online, and completing easy surveys?
Swagbucks is a 100% FREE resource and it literally takes less than 5 seconds to sign up. I highly recommend them to anyone who wants to earn free gift cards or cash to help reduce their monthly spending.
Swagbucks is 100% legitimate try it today by signing up HERE!