5 Unique Ways to Save Money
Saving money isn't easy when you feel you are stretched to the limits or you are a spender. But we all know it's something we must do, whether it's for a rainy day or a specific purpose. To help give you motivation and ideas, I've compiled a few of my most unique ways to save money.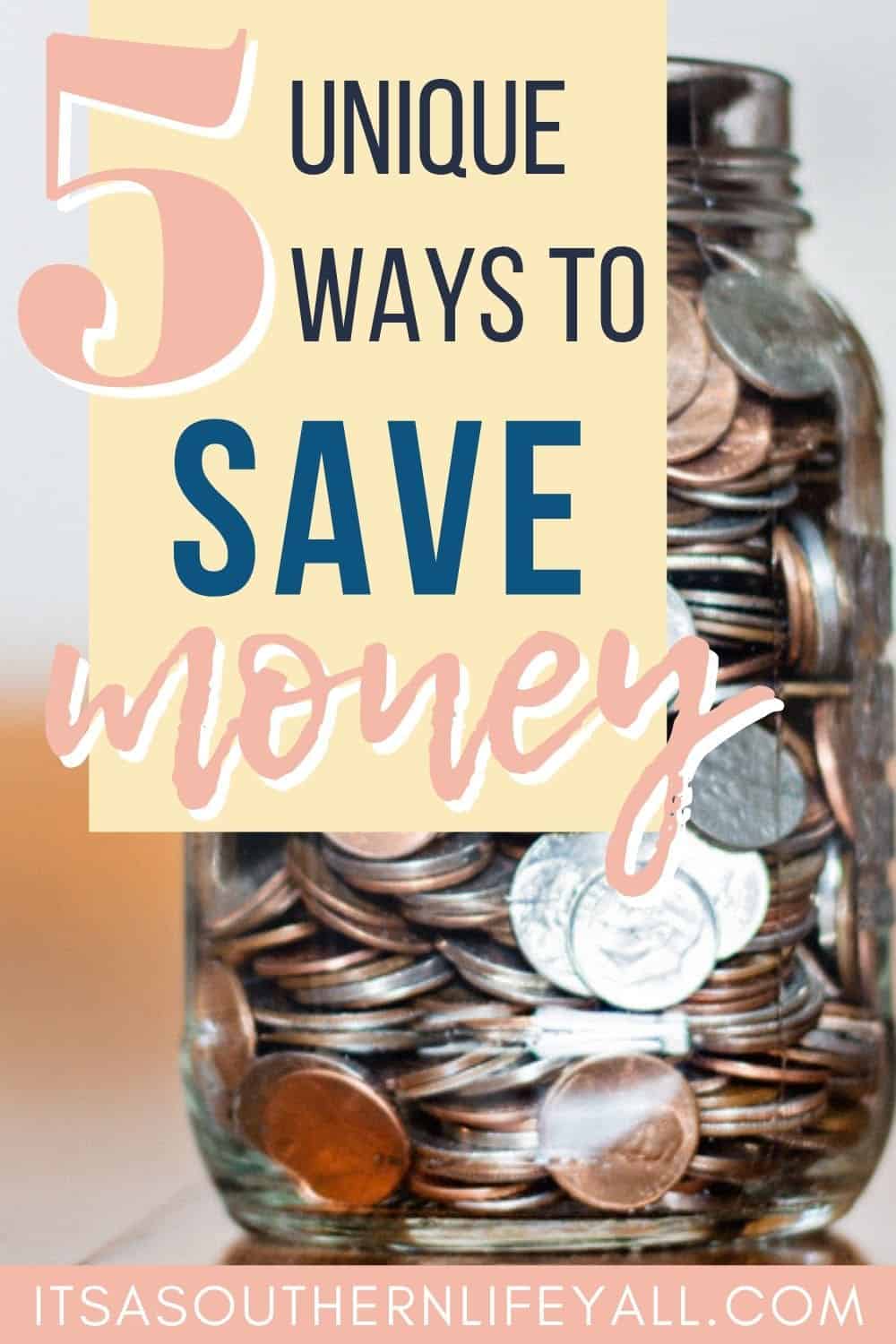 (This post may contain affiliate links. What does that mean to you? Well, if you click on a product and make a purchase, I may receive some compensation at NO charge to you. If you want to read the boring stuff, my full disclosure can be found here.)
My grandpa always said, "a penny saved is a penny earned." I never really understood that until I started earning money myself…and even then I didn't really think about it much.
With that being said, it is no surprise that it took me a long time to understand the concept of saving money.
I'd earn — I'd spend.
This was a neverending cycle that I happily broke many years ago. But if you are in this cycle or just need to find easy ways to save money–have no fear because I'm here to help.
Here Are My Unique Ways To Save Money
Maybe you need to trick yourself into saving money or you just need to start small…either way, these 5 unique ways to save money will get you on track and saving today!
#1 – Start a Money Jar
I just love this money-saving tip! For starters…USE CASH!
If you've followed me for a minute, you know I love using the cash envelope system to save money. When you use cash if you use it all it's gone. If you want to know more about the cash envelope system, CLICK HERE to read the post.
When you use cash, you have the ability to limit your spending simply by only taking small amounts with you when shopping.
After your purchase, save all of the coins! Yes, don't spend your coins.
Transfer all of your coins into a money saving jar and watch it fill up. At the end of the year, deposit all of your change into a savings account. You will be amazed at your total savings.
#2 – Don't Shop In Person
Wait! What?
Yes! Stop entering stores to purchase items.
Shopping online is easy and convenient. But, best of all, shopping online helps curb impulse buying. You know those see it on sale and grab it purchases you don't really need.
This also works for grocery shopping. Online shopping with curbside pickup is a great way to stick to your list.
This will not only save you money, but it will also save you time.
If you follow the cash envelope budget system or any other budget and have set a monthly amount for groceries or other shopping purchases. Don't spend your savings (I know that is tough), just add it to your savings account.
#3 – Use Cashback Sites
Since we are on the topic of shopping online, use a cashback site to help you save even more money.
For online shopping, I LOVE Ebates!
Ebates is a free site and app that gives you cash back on almost everything you buy.
Yes! You shop and you earn money!
Are you ready for even more good news? Ebates is also a savings site, making sure you have the best discount or coupon the retailer is offering. SCORE!
Wait! There's more! If you sign up through my link HERE, you will receive a $10 sign up reward after you make a $25 purchase. $10 for just signing up! BIG WIN!
Now for the hard part…don't spend your cashback rewards! Take all of this money and add it to your savings account. You will be happy to see your savings grow.
#4 – Continue Payments After You Have Paid Your Debts
Are you crazy? Nope, it's not crazy.
I don't mean to continue paying your lender. Continue your payments directly into your savings account.
You're already making ends meet while paying down that debt. If you continue those payments, you will see your savings grow at lightning speed.
#5 – Learn New Things
I don't mean to take up a new hobby but learning new things can help you cut back on expenses. There are so many things we could save money on if we just learned to do them ourselves.
Need your grass cut? Have small honey-dos? These general chores that we rely on others to do can turn into substantial savings at the end of every month.
Make sure to bank all of the budgeted cash instead of spending it.
All of these unique ways to save money take minimal effort and don't have you eating beans for a month to add to your savings. What are some of your creative ways to save money? Let me know in the comments!