Best Mascaras Under $10
I love a good mascara! Seriously! A beautiful mascara works wonders even I'm not wearing any other makeup. But which one do you pick when there are countless options? I posted this question to a group of woman ranging in ages from teens to 60ish + and this is what I have compiled as the Best Mascaras Under $10 — according to my market research!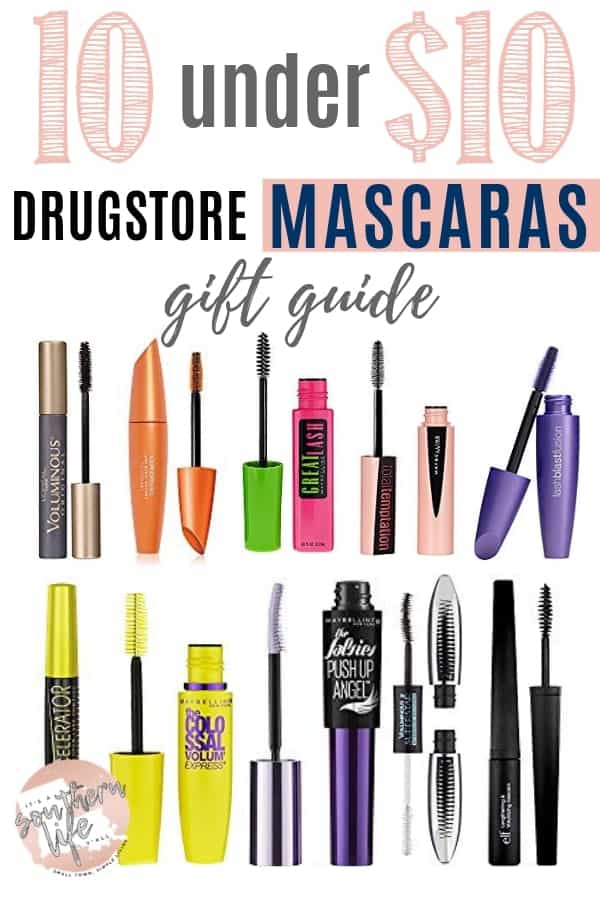 (This post may contain affiliate links. What does that mean to you? Well, if you click on a product and make a purchase, I may receive some compensation at NO charge to you. If you want to read the boring stuff from my full disclosure can be found here.)
I'm definitely NOT a beauty expert, but I love makeup! Can you blame me? I'm a southern woman that grew up competing in dance, cheer, and pageants. I also LOVE a great deal, just as many of you do! So instead of testing brands and giving you just MY opinion…I turned to my 1,458 friends on Facebook and asked for their recommendations. I have compiled their list of the best drugstore mascaras.
In many cases, I turn to online reviews. But when testing out new makeup, I love to hear from people I know! That is why I decided to head straight for my friends for some real-life recommendations on the best mascaras under $10!
So if you are looking for a new mascara for you or if you are looking for a great stocking stuffer, you have come to the right place!
What makes up a great mascara?
We all have different needs when choosing a mascara. It's definitely not a one size fits all type of thing. Some of us want lift, while others want lengthening. I love the blackest of black on my lashes where some of my friends wear a softer color.
It's a personal preference, but when you find the formula and wand you love…it's like striking gold!
So here is a roundup (or even a gift guide) of the best mascaras under $10 chosen by my friends! And FYI…these are listed in no particular order other than the first one, which was the mascara mentioned most often.
(If you want more information on each product, just click on the pink heading.)
A true L'Oreal classic and, as I said, the hands-down favorite of my Facebook friends.  I have used this mascara before and it thickens and lengthens lashes without getting clumpy.
Lash Accelerator is my daughter's favorite. She says it makes her lashes really long and separated. NOT clumpy! And most of all, it doesn't transfer to her undereye or eyelids!
This was my very first mascara and is still one of my favorites! This formula definitely has a cult following that isn't fading. Great Lash features a lash-doubling formula that glides on to build great-looking lashes.
This mascara is said to create irresistibly soft, separated, and fluffy lashes. Total Temptation has a creamy and whipped formula enriched with coconut extract.
One of my friends raves about this mascara because it is gluten-free! The formula is said to be clump free and quick drying and stays on all day with no smudging and no flaking.
This is one of my drugstore favorites as well as my friends. The wand and the formula are just great! We agree on the superior volume this mascara gives and love that it stays put.
This mascara has a push-up wing brush that sweeps lashes to the side while lifting and plumping from the roots.
Here is another drugstore mascara that I have used. I love this formula and the brush and find I get full lashes that stay!
My friends rave about this nice fluffy brush and formula that creates beautiful full lashes time after time.
This is L'Oreal's first pro-lash kit mascara for super-volumized, super-lifted, super-extended lashes. One of my friends that loves this kit said, "make sure you get the one with the black primer." The kit includes a volumizing primer and lifting mascara.
What is your favorite drugstore mascara? Let me know in the comments below!