Mini-Goals: Your Plan to Success
Are you achieving your goals? Did you make resolutions or set goals for this year (or 5 years) and feel you're falling behind? Maybe you're already in the group that's given up on their goals completely. No matter which camp you fall into, it's not too late to still achieve success in your yearly goals. Reassessing and making mini-goals just might be an answer to your plan for success.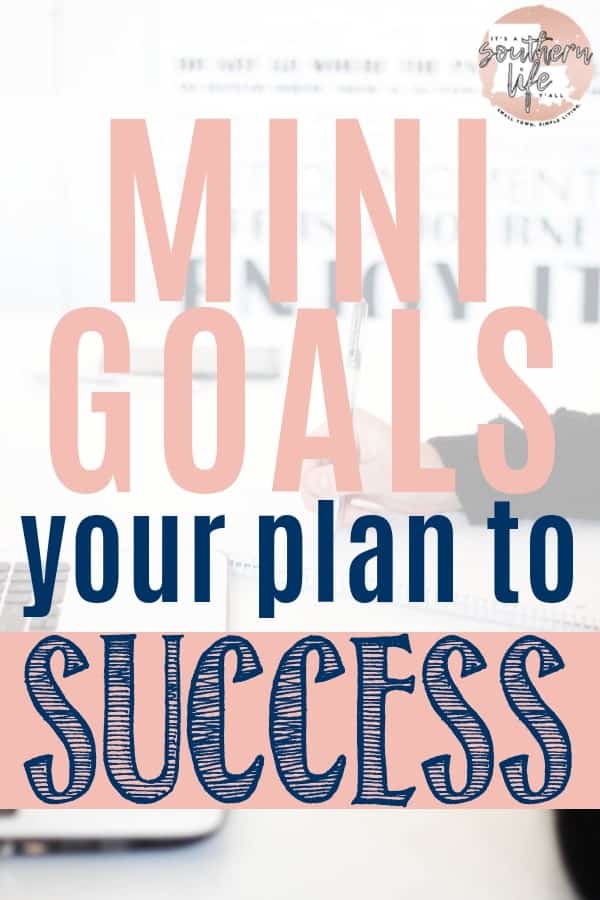 (This post may contain affiliate links. What does that mean to you? Well, if you click on a product and make a purchase, I may receive some compensation at NO charge to you. If you want to read the boring stuff from my full disclosure can be found here.)
Where are you with your goals? Are you still throwing back your head and singing verses of "Ain't No Mountain High Enough" at the top of your lungs because you are pumped and slaying it? Or maybe your goal overwhelm has you feeling like you're face down on the floor listening to "Boulevard of Broken Dreams" by Greenday?
No matter where you're at in achieving your goals – even if you're just floating somewhere in between – you still have plenty of time left in the year.
And who said your goals have to be accomplished by the end of the year anyway?
And while we're at it, who made up the rule that we can only set goals at the beginning of the year?
I never understood this concept. Just gives me reason #1316 on why I don't do the resolution thing.
If you don't have a goal…be a trailblazer and set one NOW!
No, I don't set resolutions but I do set goals – and I set them year-round!
I set big goals, mini-goals, branches of goals – I do whatever it takes to set myself up for success and you should too.
Related: 5 Ways to Achieve Your Goals
So if you're face down on the floor, pick yourself up and dust off. We're about to breakdown our goals into bite-sized mini-goals. Things you can achieve that will get you steps closer to your BIG goals and crooning "Ain't No Mountain High Enough" before you know it!
Why do I need to set mini-goals?
Mini-goals shift the power of achieving your goals and place it all in your hands. They allow you to set yourself up for success.
Anytime you look at the big picture, you see a whole lot of stuff to do and start to feel overwhelmed and stressed.
But when you break it down and take it task by task, you've got some manageable steps that you can easily handle.
Mini-goals allow you to feel small wins along the way instead of the let down of not seeing as much success as you would like.
I know you know what I am saying here.
You set a goal to lose XX amount of weight during the year. You start cutting calories, making healthy choices, and your body is aching from all of your gym visits. Two weeks later you hop on the scale and see that it's barely moved. Since we all want instant gratification, this makes you feel everything you've put yourself through was for nothing…NADA…ZILCH! You start slacking and before you know it, you're back to your old habits.
If you were striving for a mini-goal, your scenario would've been different. Instead of looking at the big picture of the total amount of weight loss you want in the year, you would've broken that into small steps that you can achieve in short amounts of time. You know…like lose your fist 5 lbs or be able to walk for 30 minutes at a brisk pace.
Why are mini-goals a pathway to success?
Mini-goals keep you motivated because they're easier to achieve. You set yourself up for success and let's face it, we all love celebrating wins even if they are small.
Mini-goals are easy to measure so you see the progress in shorter time spans.
Mini-goals are steps or building block to our bigger goals. Every one you accomplish brings you closer to your ultimate goals.
You know how you feel when you set a big goal and work towards it. I mean go hard with all of your might to make this goal happen. Then two weeks later, you feel like a failure (even though you aren't) because you aren't seeing big strides in progress.
You give up.
You end the year vowing the next one will be your chance just setting yourself up for a rinse and repeat type of thing.
We definitely don't want this to happen.
How do I set mini-goals?
This is simple if you follow these 2 easy guidelines:
Keep your mini-goals small but on track to accomplish your bigger goal. They should be something you can accomplish in a month or even up to three-month time spans.
Keep them simple and measurable. You want to be able to see your success.
Just remember to keep your mini-goals simple and achievable. Don't make them complex. The concept of a mini-goal is to build your confidence and get you moving in the right direction.
Mini-goals should get you to build momentum which will lead to progress. Just as Newton states in his First Law of Motion — An object at rest stays at rest (we don't want that) and an object in motion stays in motion (this we want).
Related: Free Printable Habit Tracker
So do you want to stay down, crying on the floor, not moving and just feeling like a failure? Or do you want to be the girl with the gold star stickers (with sparkles…life is always better with sparkles) lined up because you're celebrating mini-goal wins? I know which one I want and have my stickers picked out!
Need some visuals? Look no further! Of course, I had to create a new free printable for you to help set your mini-goals. Just fill out the form below and grab your FREE Mini-Goal Planner!
Feeling pumped and ready to take on some mini-goals?
When you break your big goals down into bite-sized pieces, they become doable and manageable. You'll make progress and celebrate your small wins which will lead you down the path to smashing your ultimate goals.