Managing your busy life isn't easy. Juggling what you HAVE to do and what you WANT to do can be daunting at times especially now that our world is topsy turvy right now. Through the years I've learned, utilized, and honed many tips and tools on how to time block your day to get more done in less time.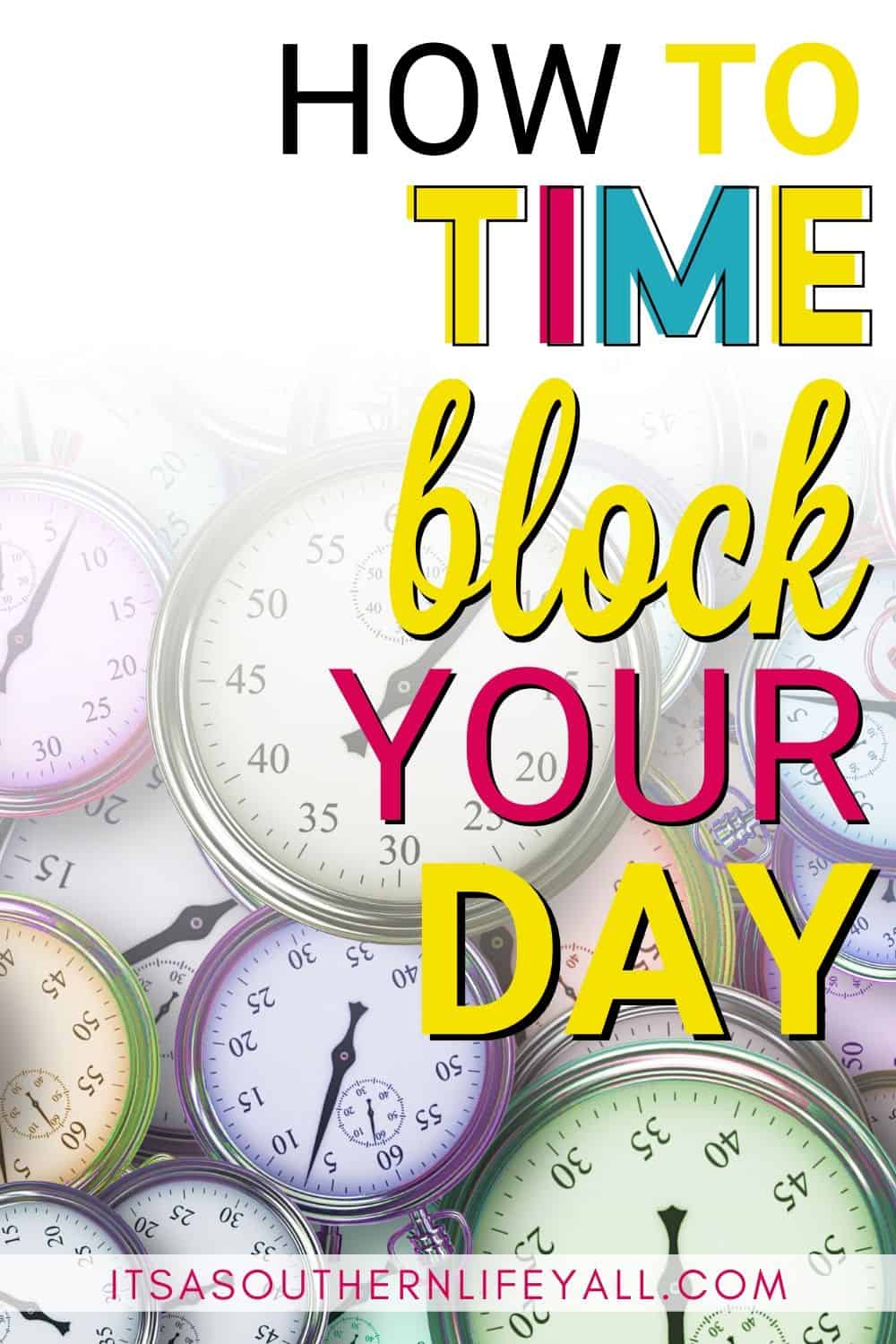 (This post may contain affiliate links. What does that mean to you? Well, if you click on a product and make a purchase, I may receive some compensation at NO charge to you. If you want to read the boring stuff, my full disclosure can be found here.)
Whether you are working from home or are in the workforce, balancing your time can be quite a task.
Now that many of us are working from home with other family members and children present, time management is more important than ever.
Do you find yourself working from home now and need to learn how to schedule your day? CLICK HERE to find my best work from home scheduling tips.
Your to-do list might have shifted but is still growing. Fitting in homeschooling, work, and home life is a new territory for many of us.
We must take ownership of our time to keep normalcy in our lives.
Controlling our schedule using calendar blocking is a way to do that.
I don't know about you but I'm ready to be more productive and feel accomplished at the end of the day…not just blankly staring at a very long list of to-dos feeling extremely overwhelmed because I dropped the ball on too many items.
Do you feel like me frustrated with a never-ending to-do list and find yourself wondering where your time went at the end of the day?
Let me show you the solution I have found to balance the chaos and schedule my time like the boss babe that I know I am!
While I'm facing new challenges and am working out the kinks of this new life of mine, I know I will remain productive by utilizing the time blocking method. By using your minutes productively, you will easily tackle the tasks you need to.
Time Blocking: What is it?
Time blocking is exactly what it sounds like, blocking segments of time and dedicating these segments to designated tasks. In a nutshell, time blocking is scheduling your day! Instead of having a list that makes you feel frazzled; you have a neat calendar with scheduled times for tasks.
Simple RIGHT?!
Seriously, I CANNOT believe I had to discover this strategy by asking Google for "methods of time management"! This is essentially what I did in the corporate world daily – budget projection report due, block off four hours of uninterrupted closed office door time with a 30-minute break midway through to clear my mind and take a walk.
If you are looking for a great planner to help you with time blocking, try this great non-dated planner
which will help increase your productivity and time management. It is great to use to implement the skills in this post.
Time Blocking vs To-Do list
Is Time Blocking better than a to-do list?
When you write a mile-long to-do list, are you being realistic with your time? Really? How can you get all of that done without a plan?
Let's think about this…grab your latest to-do list or create a new one with all of the things you need or want to accomplish. Now sit back and really think about this list and think about your time.
Can you accomplish ALL of these tasks in ONE day? There are 1440 minutes in a day and not all of these minutes are useable (we must eat, sleep, and have personal time).
I usually carry over many items to my list for the next day and the next day – never feeling that complete sense of accomplishment.
But when I looked at my time realistically and organized the time, not the tasks, I felt a sense of accomplishment and benefited in so many ways…Big stress relief!
Instead of looking at the big pile of tasks, I prioritized and looked at segments that were manageable!
I can't tell you the load this lifted from my shoulders. Prior to time blocking no matter how much I tackled from my list, my mind remembered and focused on what I didn't complete!
Think about it…do you high-five yourself over all of the things you did in a day or do you think about the things you have yet to complete?
Time blocking can alleviate some of this unneeded stress by knowing you have your time laid out and planned.
Click To Tweet
When managing your to-do list, it is easy to over-commit. We look at our list and just add another item, figuring we will fit it in somehow.
When you use time blocking, you schedule your tasks and put them on your calendar or in your planner. You essentially force yourself to think of the task and how long it will take to complete it.
Using this method forces you to look at your plans realistically.
Block scheduling has caused me to take action instead of having a list of things I planned to get around to doing. I REALLY had a plan! I was making a commitment to myself to complete the task.
Time blocking is a plan of action.
I also find using the time blocking method helps to prevent my secret procrastinating side. Seriously! If I don't have an action plan, I can be lazy!
I like to say that I work extremely well under pressure…but to be honest I am a procrastinator which has developed my ability to work under pressure. If a task is complicated or harder to complete; it is the last task I tackle…waiting until the last possible moment to take action.
Can you Time Block?
The simple answer is YES! But before you sit down with your calendar and fill in all of your minutes I want you to think about the little things that must happen in a day (eating, walking the dog, sitting in the school pickup line) and make sure you add these to your schedule.
And definitely, schedule in some "me time"!
We all need to take care of ourselves to continue to work at a high performance. If you just load up every minute of your day by copying your to-do list, you are really not time blocking…you are just making a list on a calendar.
How to Time Block
Make a to-do list. Wait! What? Did I just say to make a to-do list after saying time blocking is better for you than a to-do list? Yes, I did! Even though you are shifting to a new time management system you will still need a list of daily tasks…You don't want to forget anything. My to-do list is generally an open note on my phone that I ask Siri to add things to instead of using a pen to paper. Do whatever works best for you.
Prioritize your time. Take a good look at your to-do list and prioritize it. Remember there are only so many hours in a day, so set your priorities and decide on your highest functioning times. Schedule your most demanding tasks during these times…so you are at your most productive. I am a morning person, so I fill up my mornings knowing that is when I am ready and willing to face anything! Estimate the time frame for each task and start plugging in the blocks into your calendar. Continue this process until you have blocked your day or week.
Be flexible. "People's biggest misconception with time-blocking their day is that the goal is to stick with the schedule no matter what," says Georgetown University professor Cal Newport, author of Deep Work: Rules for Focused Success in a Distracted World. Time blocking is not a set-in-stone type of time management. It is a method of organizing your day into time slots to help keep your focus and manage your time properly. Adjusting time will be necessary throughout the day to reflect the actual time spent on tasks.
If you would like to read more about simplifying your life, read my post 7 Effortless Tips to Simplify Your Life.
So if you are intrigued by this time management method, I hope you give it a try and share your feelings, comments, and other ideas below. I would love to hear from you!