Do you get paid once a month? If you do, you know how this can be both a blessing and a curse. If you don't watch your spending, the last week or two of the month can drag on and on. Here are 5 tips on how to properly budget your monthly salary without robbing Peter to pay Paul.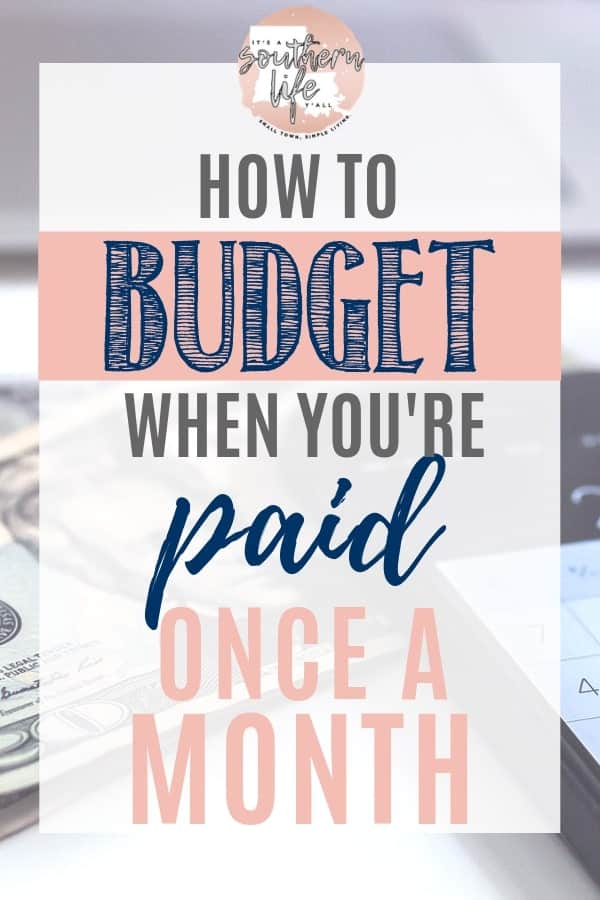 (This post may contain affiliate links. What does that mean to you? Well, if you click on a product and make a purchase, I may receive some compensation at NO charge to you. If you want to read the boring stuff, my full disclosure can be found here.)
I get how hard it can be to budget when you're paid once a month. Stretching your income through the entire month isn't easy if you don't plan.
As a teacher, I was paid once a month and I hated it! Living on and supporting my two daughters on a teacher's salary wasn't easy. Getting used to a monthly paycheck and wrangling in my spending was even harder. It wasn't easy training myself to stretch my monthly paycheck through the month. But I did it and you can too!
Tips On How to Properly Budget Your Monthly Salary
Here I have compiled 5 of my best getting paid monthly tips to help you find ways to make your pay last the entire month.
Tip 1 – Pay all of your bills immediately
Do yourself a favor and pay ALL of your bills as soon as your money hits the bank. By doing this, you will avoid running out of cash before all of your bills are paid.
For some of us, leaving money in our account until a bill is due is just too much of a temptation. Avoid overspending by getting your bills out of the way first.
To help, I suggest contacting your creditors and change your due dates to the day after you get paid.
Tip 2 – Create a budget and stick to it
Stretching your paycheck through an entire month takes a lot of self-control. Once your bills are paid, it is easy to look at the rest of your cash as "fun" money. But you still have other expenses like gas and groceries that you will need money for.
Creating a budget and sticking to it will help you manage your monthly pay effectively. This may not be as fun as having a blowout weekend with the girls. But when you manage your money properly, you will see that you are able to save for fun times without overspending.
THIS POST will help walk you through the steps of creating a budget.
Tip 3 – Pay with cash
Using the cash envelope system has been a life changer for me. I know I have said this countless times but it's true.
When the cash runs out, it's out.
What's the cash envelope system. Read all about it HERE IN THIS POST.
In short, you just categorize your monthly budget and make an envelope for each category. Each category receives an allocated amount of money each month.
Using a cash system can really help in controlling your spending. It gives you a concrete visual of how much you have budgeted and your spending. Seeing your money helps you to understand your spending more than just swiping your debit card.
Switching to this cash system is a great option if you have difficulties in tracking your spending. It is a simple process that helps you avoid overspending.
Tip 4 – Create weekly limits
If you still find yourself coming up short at the end of the month and you are using the cash envelope system, take it one step further. Instead of having one envelope for each category, divide your categories into 4 weeks and split your cash this way.
So if you have $400 as your monthly grocery budget, split this into four envelopes with $100 in each. This will help you avoid overspending at the beginning of the month and eating beans at the end of the month.
When you go shopping or out on the weekend, only take the amount in the envelope for that week. Carrying all of your envelopes may be too tempting if you have trouble controlling your finances.
Tip 5 – Build an emergency fund
No matter how detailed you are with your budget, you are bound to run into unexpected expenses that can blow your budget. Big ticket items like unexpected car or home repairs can take a lot of money.
Creating an emergency fund can help you handle these expenses without ruining your budget.
Making ends meet when you are paid monthly can be tricky. Using tips like these can make the process a little easier on you and help you avoid the stress of being broke until your next payday.
What are some of your tips on how to properly budget your monthly salary? Leave them below in the comments.