Do you feel like you're drowning in debt? I promise you're not alone. In 2018, the typical household carried an average debt of $137,063. This is over 2 times the median US household income. Alarming isn't it? But we can change that.
If you are anything like me, you know the path to financial freedom begins when you start tackling some of your debt. But to do this, you must be aware of these 5 mistakes to avoid when paying off debt.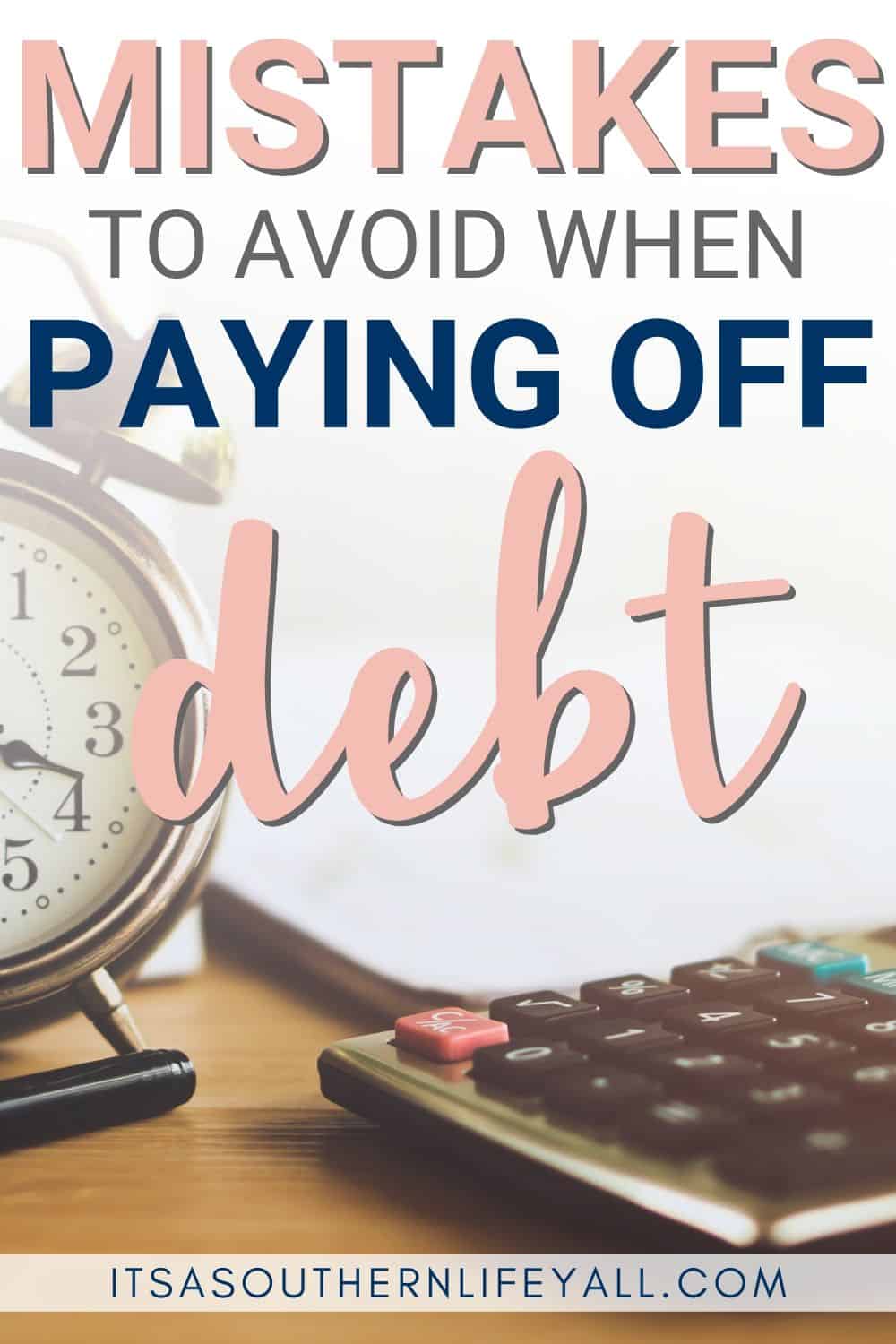 (This post may contain affiliate links. What does that mean to you? Well, if you click on a product and make a purchase, I may receive some compensation at NO charge to you. If you want to read the boring stuff, my full disclosure can be found here.)
Do you feel like you will always have a massive amount of debt?
Paying off your debts may seem like an unobtainable goal but becoming debt-free IS possible with some work and perseverance. A crucial part of being successful with money and debt payoff is having a plan.
Unfortunately, many people make mistakes while trying to pay off their debt which holds them back and can even cause more debt.
So let's talk about some of the most common mistakes people make when trying to pay off debt.
Mistake 1: Failing to Create a Budget
It's hard to follow a debt-free path unless you know exactly where you are right now.
Without having a firm grasp on how much money is coming in and what is going out, how will you find financial freedom? No matter what your money situation is, if you're behind on bills or even having trouble making your minimum payments, you still need to gather and know everything you owe along with the interest rates AND how much is coming in.
Sitting down and creating a thorough budget might seem like a step you can skip but it really isn't.
Creating a budget is easier than you think. You don't need fancy spreadsheets or too many bells and whistles. You just need to know where you stand financially. HERE you will find step-by-step instructions on how to create a simple, uncomplicated budget.
Mistake 2: Not Having An Emergency Fund
I get it. You want to apply all extra money towards whittling down your debt. In your mind, nothing else matters even an emergency fund.
WRONG! The decision to forgo an emergency fund could ultimately hurt you. Let's face it, the law of averages dictates that an emergency of some kind, a medical expense, a car repair, a minor household repair, or anything else, is likely to happen during the time you are paying off your debt.
Not being prepared could land you further in debt if you choose to borrow from friends or family, take out a loan, or use your credit cards to cover these types of emergency expenses.
MISTAKE 3: Not Having A Payoff Plan
When you are ready to pay off your debts it takes more than putting it out into the universe. You have to have a plan with clear and specific goals.
How much do you actually owe? This sounds simple but if you don't have a clear picture of who and what you owe, it will be hard to create a debt payoff map.
Which debts do you want to pay off first? You may have heard of the debt snowball and debt avalanche methods but you might not know what these terms mean. These methods are how you approach paying off your debts. The debt snowball method has you paying off your debt with the lowest balance first so you can score some quick wins. The debt avalanche method tackles your debt with the highest interest rate so you can save the most. Both methods are highly effective.
How much money you have to apply to your debt payoff goal? To tackle your debt, you'll need to pay more than your minimum payments. This is where your budget comes into play. Knowing exactly where you are moneywise, where you can cut, and the amount you can apply to your goal will get you moving in the right direction.
MISTAKE 4: Continuing To Accumulate Debt
Creating a budget is easy. It's sticking to a budget that's the hard part. If you don't have your spending under control, you may feel the pull to use your credit cards to cover purchases or to even cover normal spendings such as groceries or gas.
When you are trying to pay off debt, you cannot continue on the hamster wheel of accumulating debts. You must top borrowing and using credit cards. Switching to a cash-only system is a positive step when you are on a financial freedom journey.
MISTAKE 5: Not Tracking Your Debt Payoff Progress
Using a Debt Tracker Printable is a big step in the right direction when you're striving to pay off your debts not only to see where you are but to motivate you to keep pushing through.
Having the visual will also allow you to see if you are making enough progress.
Don't forget to grab the FREE debt tracker from above and keep somewhere you will see it every day.
Let's be real. It's not fun to face the reality of the amount of debt you have but it's necessary. We can't hide our heads and wish it to disappear. We have to face it head-on.
You must make a plan, create a budget, organize your finances, and finally start working on knocking all of your debt out. Simply making a promise to yourself is not going to cut in when you are tackling a goal such as this. But, even if you start small, the results, in the end, will be worth it.