Does the thought of holiday shopping stress you out? It doesn't have to be this way. Following these Stress-Free Holiday Shopping Tips can help you avoid being a Christmas Scrooge or worse yet, running for the hills to hide from the holidays.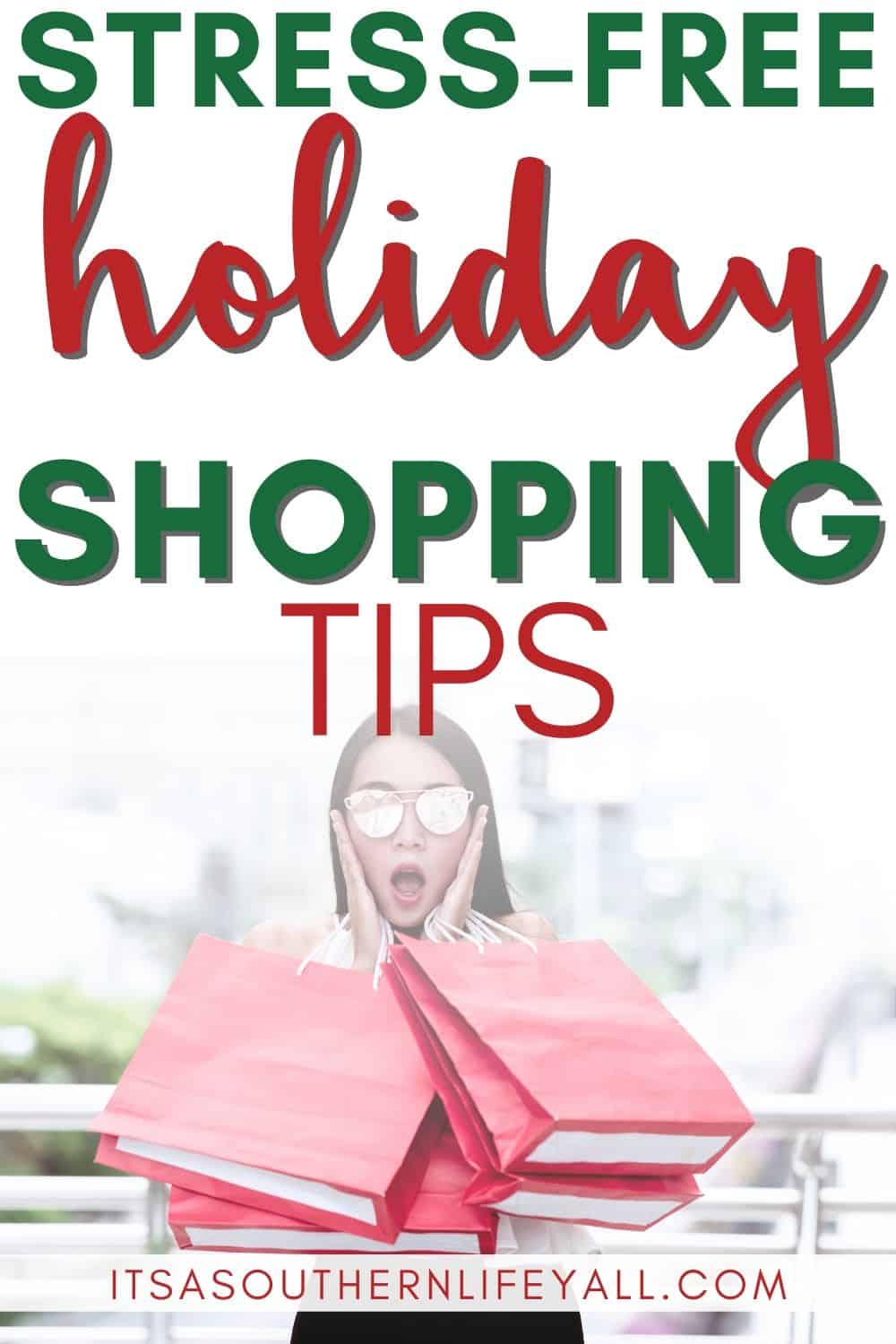 (This post may contain affiliate links. What does that mean to you? Well, if you click on a product and make a purchase, I may receive some compensation at NO charge to you. If you want to read the boring stuff, my full disclosure can be found here.)
Christmas shopping…you either love it or hate it.
Even if you love it, the crowded shopping trips of the holiday season can prove to be quite stressful. According to this post, 31% of Americans describe the holiday season as "frantic."
Personally, I love Christmas but I hate crowds and chaos. I work hard to find the perfect gifts for everyone on my list but this takes careful planning to have a stress-free Christmas shopping experience…which is always my goal. Well, that and saving money.
If the thought of the hustle and bustle makes you want to shut off the Hallmark channel and hide from the season, you're in the right place.
These stress-free holiday shopping tips will help keep you organized and most importantly, help you save money.
Make a Christmas Budget
I know, here I go again with that dreaded budget word.
If your goal is to avoid the holiday debt hangover, I can't stress the importance of a holiday budget enough. Knowing exactly what you have in your holiday spending budget is a key step in having a stress-free Christmas shopping experience.
But there is more to the holidays than just shopping for gifts so don't forget the other items (gift wrap, postage, and any other holiday-related item) to keep your spending under control.
If you need additional help with this tip, this post walks you step-by-step through creating your Christmas budget.
Make a List Down to Every Last Detail
If you're like me, the what if I need and little things can get out of hand pretty quickly, that's why I NEVER shop without a list, especially at Christmas.
Having a shopping list of everything you need and your estimated cost for each item helps you plan properly.
Once you create this list, compare it to your budget and see if you have the money to cover Christmas. If not, reevaluate your list and see what you can cut.
Doing this prior to shopping will help alleviate a ton of stress while in the stores.
Grab your free Gift Tracker printable below to help you with your planning and gift ideas. Knowing exactly what you want to buy and your estimated cost helps you keep track of your Christmas spending.
Have a Plan and Start Early
A little planning will make everything easier for you.
Knowing when and where you plan to shop allows you to map out your shopping. This helps you to avoid wasting time and backtracking because you forgot something.
My biggest secret to having a stress-free Christmas season is to get it all done as early as possible. And my second biggest secret is to NOT plan shopping days over the weekend…this is notoriously a busy time.
The earlier you start, the better off you'll be if you are like me and hate crowds. This also gives you time to price compare with sales and online to make sure you are getting the best deal.
You'll find many great deals during the month of November, so don't wait.
If you plan carefully it will be easier to get things done and you won't fall short on time!
Take Advantage of Sales, Coupon Codes, and Cashback
As I said in the last section, price compare and take advantage of sales.
Sales start earlier and earlier each year. So if you're looking for a new TV and you see a great deal on one at the beginning of November, grab it! Yes, you might find another deal a little cheaper in a Black Friday sale…but do you want to fight the masses and raise your stress level to save $10 or $20 more?
Also, don't forget to take advantage of coupon codes and cashback options if you're an online shopper.
I love – love – love using cashback options! If you're looking for an easy way to earn extra money for Christmas, cashback sites are a great way to add a little jingle in your pocket.
One of my favorite cash back apps is Rakuten (formerly Ebates).
Rakuten is exactly what you need for the holiday season because you're already shopping…why not make money back while you're doing what you need/want to do?
Use my code by clicking here and you'll get $10 back on your first $25 spent. That's a win for me!
If you want to learn more about Rakuten, this post gives you the details.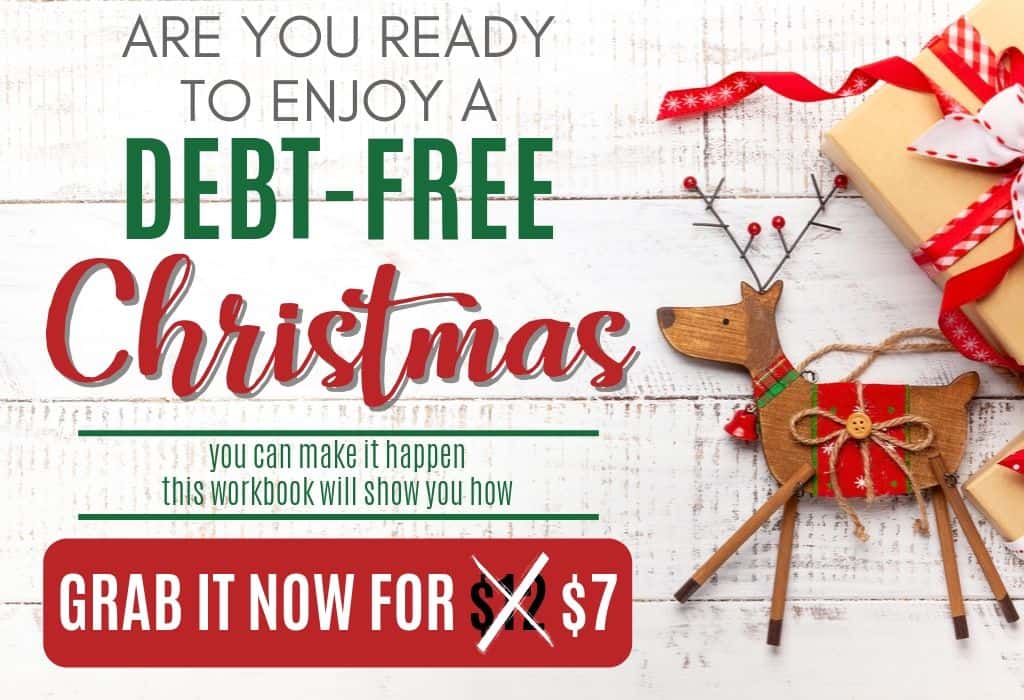 Skip the shopping
Avoid shopping (or at least brick and mortar shopping) completely by doing these things instead:
Make gifts yourself (I'm doing a lot of this!)
Buy experiences like zoo tickets, escape room packages, etc.
Give the gift of cash
Open a savings account
Donate to a charity
Gather a collection of special family recipes
Make a photo book
These gifts take a little thinking, lots of love and will be more cherished than store-bought anyway.
Do you have other holiday shopping tips or ideas to skip shopping altogether? Let me know in the comments.