You hear it time after time…you know how you start your day is key to your day's success. But it is just so hard to juggle everything in the morning. You know you need a routine but nothing seems to work for you. Learning how to create a morning routine that is just for you is what you need.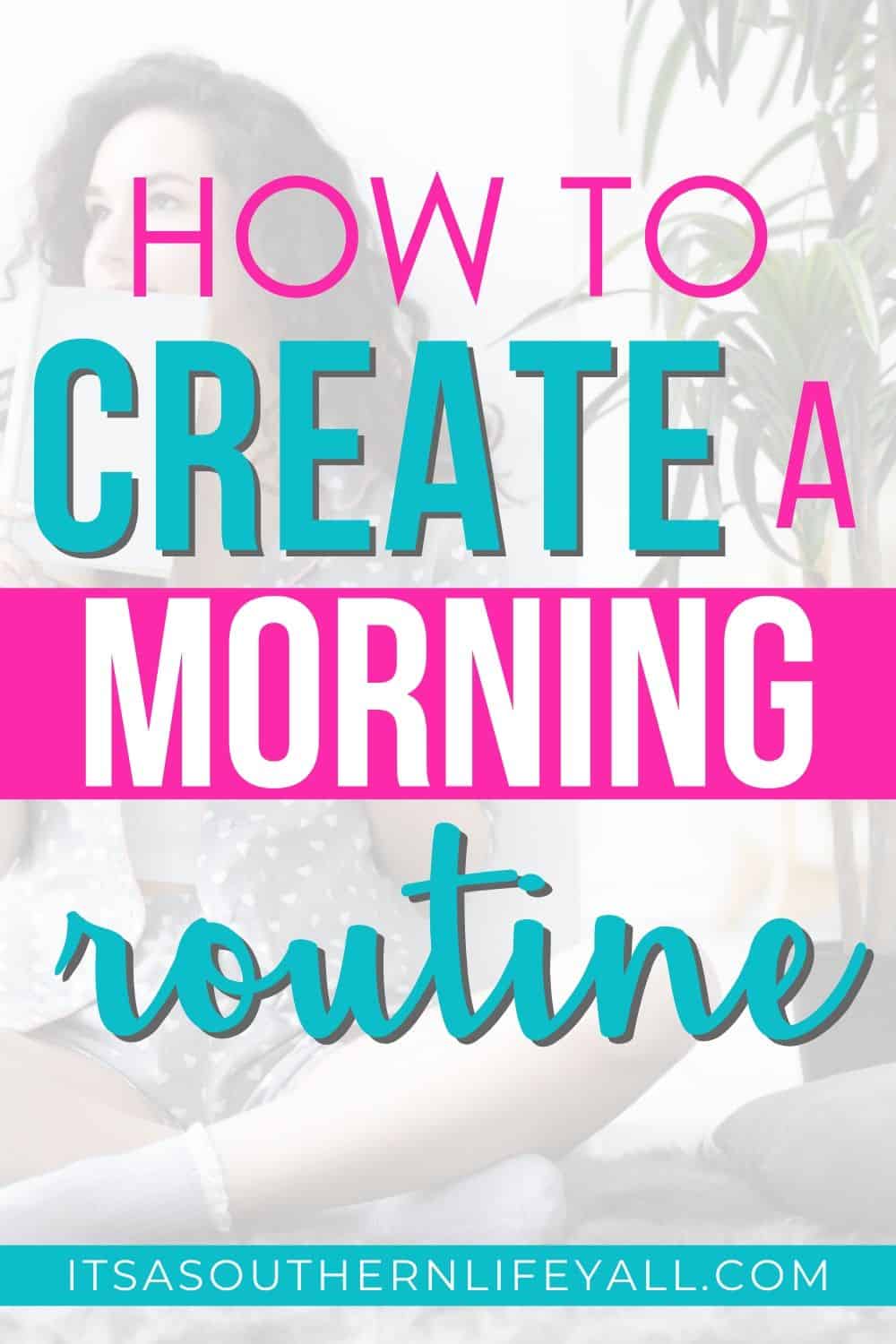 (This post may contain affiliate links. What does that mean to you? Well, if you click on a product and make a purchase, I may receive some compensation at NO charge to you. If you want to read the boring stuff, my full disclosure can be found here.)
Getting a great start to your day is essential to being productive. But how do YOU have a great start to your day when you're barely functioning before your caffeine kicks in?
You have nothing prepared to help your morning run smoothly and if we're being honest, you really wanted to hit snooze a few times before dragging yourself out of bed.
Does this all sound familiar to you? You know you need to learn how to create a morning routine but you just don't know where to start.
If you look online, especially on Pinterest, you see all of these posts and pins about successful people and their awesome morning routines. And you probably think, that could be you if only you had a morning routine or just didn't have to run around in the morning hoping to make it out of the door on time.
How do you create a morning routine?
But learning how to create a morning routine and stick to it is easy…really easy…when you take it step-by-step!
When I was younger…Jeez! I throw that statement around a lot lately. But when I was younger, I struggled to wake up and function.
I didn't have the proper balance in my life.
I was burning the candle at both ends. But not in the party girl meaning. I wasn't organized and didn't have a productive morning routine, or any routine, so I played catch up on a regular basis. Can you relate?
Are you robbing Peter to pay Paul with your time like me?
I didn't have a morning routine. I hit the snooze button three maybe four times, then grudgingly dragged myself from my bed…and stumbled to the kitchen and poured myself a cup of ambition (in my best Dolly Parton impersonation).
I rarely made my bed and dressed in a rushed manner. Seriously! When I finally listened to my alarm clock, I was lucky to get to brush my teeth before I needed to be out of the door.
This stellar routine usually left me running out the door with my fingers crossed hoping I would make it to work on time…and not get a ticket while rushing through traffic. Because of this, I felt like I was playing catch up the rest of the day.
But, from age comes wisdom, we hope. I developed a morning routine and things fell into place.
I learned to have a better balance in my life as a whole, which in turn helped me to cultivate being a morning person.
YES! I am NOW a morning person! And you can be too when you make a morning routine of your own.
I prefer to start my day quietly to get a little reflective "me" time. But if others are awake, I CAN hold a conversation (if I must) before my first sip of Community Coffee. I know, you probably haven't heard of Community Coffee
because it's a Louisiana thing but when it comes to coffee they know their stuff. In my house, Community is all I serve.
Why should you create a morning routine?
My friends and family will tell you that I often say "kids crave structure and routine" (former teacher speaking here), but let's face it…so do ADULTS!
I'm not saying to have a mundane life that repeats daily, but I am saying we perform at our best when we have structure.
Starting your day off with a productive morning routine is a great way to get the structure you need in your crazy busy, chaotic life.
You can't plan out your entire day thinking everything is going to fall into place perfectly (unobtainable goals!), but you can get a nice start with a clear mind.
Finding YOUR morning routine is key because what works for one person is not the same for everyone. This article highlights the different morning routines of 23 highly successful people…ALL are different.
RELATED POST: Time Blocking: How to be HIGHLY Productive Every Single Day!
Step 1-What you do every day
Start writing what needs to be done every morning; shower, breakfast, kids, pets, etc.. Make sure you include all fo the important tasks. I know we all have different needs so just list everything you normally handle and a general time needed to complete each task.
Now sit back and really look at your list.
Do you see any areas that can be streamlined or that can be handled at a different time?
I live in South Louisiana, where our air is so humid at times it makes you feel like you are breathing in water. I also have extremely curly hair. These two constants in my life do not mix and do not make for an easy hair routine…that is unless I want a frizzy messy bun daily! Taming my locks takes more time than I care to admit…So you know, THIS GIRL, handles all of that at night!
To help tame my hair and keep it under control, I use This Hair Straightening Brush
to smooth my locks. It really does the trick even in the hot and humid Louisiana weather!
Step 2-What you would like to do
Next, write down everything you would like to accomplish or implement in your morning and estimated times.
For example, I love a little time to myself. I have always been this way. I make it a priority to wake 30 minutes before anyone else so I can sit with a nice cup of coffee and reflect or just stare at the beauty of the sunrise. This helps me rejuvenate and kick starts my day.
Maybe you like to workout in the morning, have morning rituals, check emails or social media, prep your meal for the evening or even would like to read for 10 minutes. What is it that you want to include in your morning routine?
Step 3-Organize it
Now that you know how you would like your morning to flow, organize it to set yourself up for success!
Organizing your morning is super simple to do by working backward. If your schedule requires you to be at work at 8:00 am, start there. Next, add your drive time and then continue from there.
Don't forget to prepare for LIFE to happen, because we all know this is inevitable. Don't hold yourself accountable for every minute of the morning. Leave some wiggle room.
RELATED POST: How To Plan Your Week
As you start implementing your new morning routine, you will naturally fine-tune it and find ways to make your morning even easier. I personally prep in the evening by picking out my outfit and meal prep on Sunday for breakfast. These simple adjustments have shaved so many minutes off of my morning routine and have helped me to enjoy a little more of the morning without sacrificing sleep time.
I would love to hear from you and find out about your perfect morning routines! Comment below and let's chat.