Finances. Budgeting. Saving. Let's face it, these are some pretty scary words. Of course, we're all very aware of the importance of being financially stable. But the question is: What do we need to do to get to the point of financial freedom? Starting an emergency savings plan is a huge step in the right direction because it can be your safety net if you suffer a temporary loss of income. What is an emergency savings account? Read on to discover your answer.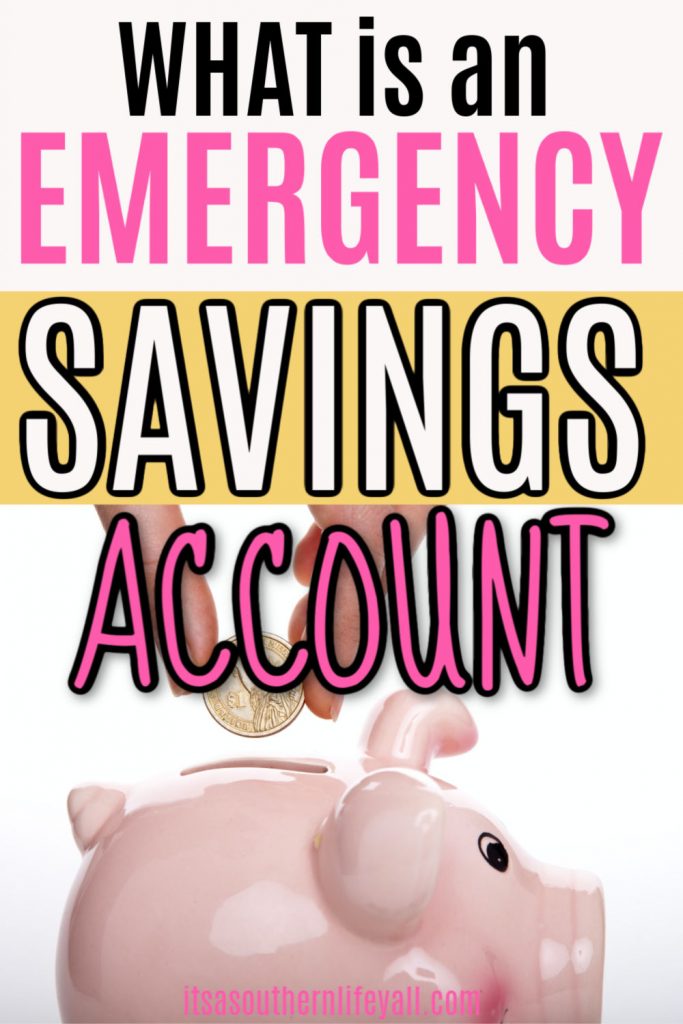 (This post may contain affiliate links. What does that mean to you? Well, if you click on a product and make a purchase, I may receive some compensation at NO charge to you. If you want to read the boring stuff from my full disclosure can be found here.)
If you know me, you know I harp on the importance of having a budget to successfully manage your finances. Now, I want to add another step towards your goal of financial freedom…an emergency savings account.
I'm sure you're asking yourself how do I do it? Where do I begin? How much should I even save? Don't worry, I'm going to break it down for you! Let's get to it.
As always, it starts with a budget. If you need help starting a budget, this post will walk you through the process step-by-step.
What is an emergency savings account?
An emergency fund is not meant for a last-minute vacation, splurging on an outfit for a destination wedding or even for furniture that just went on sale. It is meant for exactly what it says. An emergency.
Although you may be tempted to use these funds for other reasons, you'll be happy you have your emergency fund money should the need arise.
Your emergency fund is not an investment. It's there to cover you and protect you when things come up unexpectedly.
An emergency is what I consider an Oh Sh*t! moment (just keeping it real). It's meant for those moments that truly disrupt your life, such as the loss of a job, pay cuts, and medical emergencies.
Life happens and we have to prepare ourselves for it all. This is where an emergency savings account comes in for the win.
Recently, many people found themselves unexpectedly unemployed. Although unemployment benefits were available, having an emergency fund would have/did help during the waiting period for those funds to start coming in.
Having an emergency savings fund will help keep your stress levels down during these very stressful times, and it will also help you avoid falling back into debt.
Wondering what's the difference between an emergency fund and a sinking fund? Learn about sinking funds here.
Who should have an emergency savings fund?
This is a very simple question. Everyone.
Everyone needs emergency savings. It's your livelihood. It protects you, your children, and your assets.
At any given moment, you may face financial issues.
It may not have happened yet, and it may not happen right away. But you must be prepared for when it does happen.
Living on the Gulf Coast, I've needed to dip into my emergency funds several times in my life. Hurricanes and evacuations happen.
When should you start saving for emergencies?
Here's another no-brainer. You should start now.
Right👏Now👏
It's never too late or too early to start your emergency savings account.
Don't wait to start tomorrow or next week or next year. Start now.
But what if you're behind on your bills? Should you start saving now? NO. Absolutely, get caught up on your bills first and then start saving.
But I can't drive home this point enough…the key is to start.
It's totally ok to start small—as long as you start.
Need to see how much you have available to save towards your emergency savings fund? Check your budget calendar to see what you have available each month.
Where do you put your emergency savings?
Your emergency savings should be easily accessible when you need it. But, then again, it shouldn't be so easily touched where you'll be tempted to dip your hand in and use some of your funds for non-emergency purposes.
Opening a separate savings account at a different bank than your normal checking account is a perfect solution.
You want the ability to have a debit card available if you need it but you don't want the temptation to transfer money from one account to another. An entirely different baking institution solves that problem. Brilliant, right?
I also like to have an emergency stash of cash on hand…stored away in my home, of course. This gives me a great alternative option if I have an immediate need.
Why do you need emergency money?
You need emergency savings to protect your financial well-being (and your stress levels).
Your emergency money is there for you when an emergency…life…sh*t happens.
You lose your job…no worries, you have savings earmarked for just that.
Emergency medical, dental, or vet bills…no worries, it's covered in your emergency savings.
Unexpected, hefty home or auto repairs…your savings is there for you.
Having money set aside will give you some peace of mind. "What used to be a huge, life-altering event will become a mere inconvenience." –Dave Ramsey The Total Money Makeover
Let's face it, emergencies can happen at any moment, and they happen without warning. None of us could have imagined this is where 2020 would be when we rang in the New year.
Without emergency savings, unexpected expenses can and will cause unnecessary stress. And we have enough of that already juggling family, work, etc.
Being prepared will take one thing off of our plates.
You don't want to potentially fall back into your old habits of the cycle of debt.
Trust me, this is why you need an emergency savings fund.
How much should you save?
This is obviously a loaded question because we are all in a different financial situation.
I like to take things in small bites instead of big chunks, so I suggest take on your emergency savings goal in steps and work your way up to your big, stretch goal.
Start with a small goal to create a base of $1,000. Work hard and fast to achieve this amount and once you do, revel in your accomplishment.
But don't stop there. Use this motivation to continue growing your account.
It's not going to happen overnight, but slow and steady wins the race!
Asses and Audit Monthly Spending

Set a Goal

Create a Plan

Choose the Right Savings Account for You

Stick to Your Plan

Save, Save, and Save!
It's time to take control and face your financial fears. You cannot allow your finances to dictate your life!
We all have dreams of becoming financially independent. These dreams can easily become a reality with hard work and determination.
It's not going to be easy. You will have to make sacrifices. You will have to make lifestyle changes.
I promise you can do it! And it WILL be worth it.