Whether it is at home or in the workplace we all have bad habits, distractors, things that divert our focus and kill our productivity. It's important that we identify these productivity killers and learn to overcome them to accomplish what we need on a daily basis.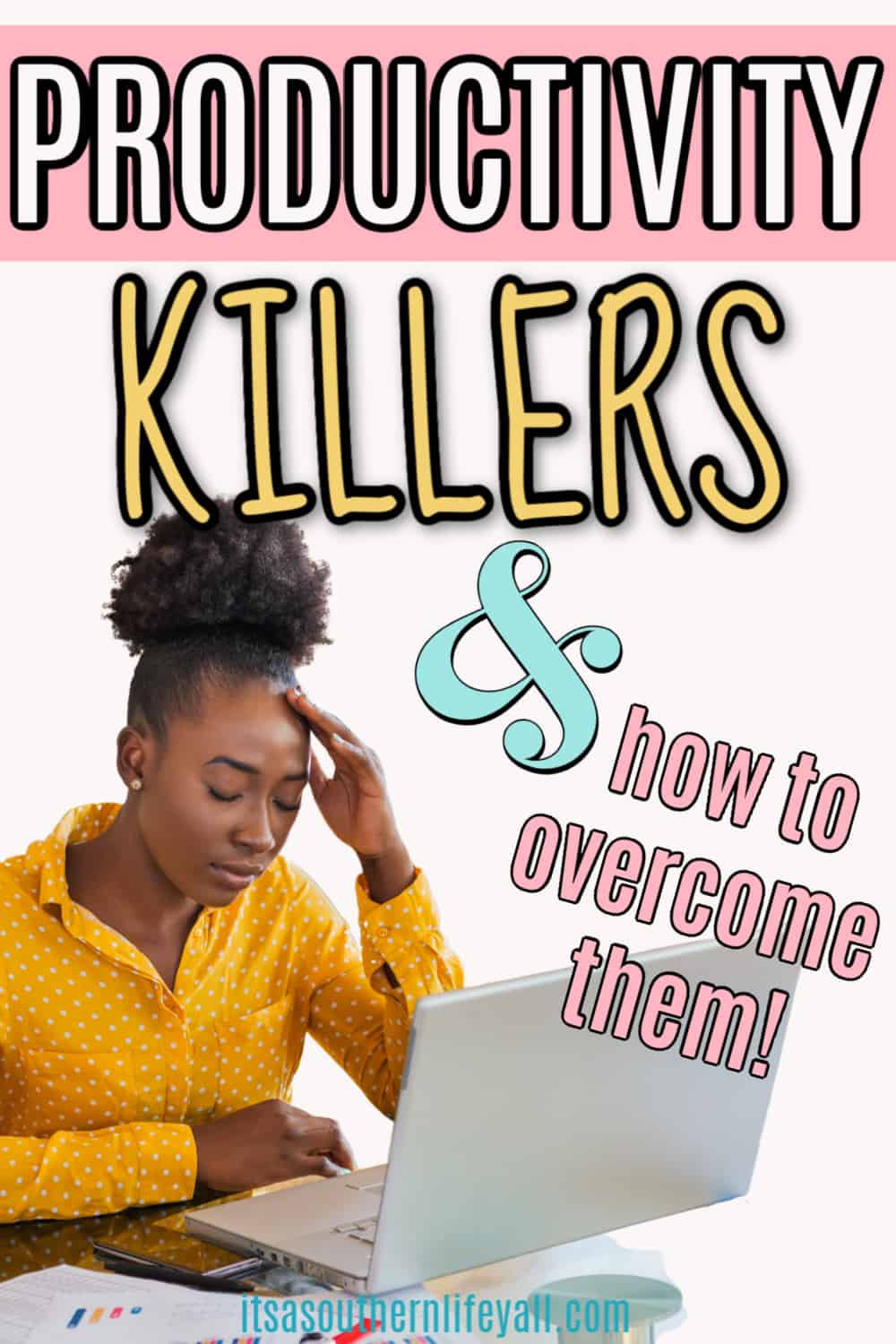 (This post may contain affiliate links. What does that mean to you? Well, if you click on a product and make a purchase, I may receive some compensation at NO charge to you. If you want to read the boring stuff from my full disclosure can be found here.)
Do you always feel like you are running in a race of time, but never seem to get anything accomplished? If your answer is yes, then you may need to think about how you are actually spending your time. I don't mean to learn a new strategy, but you may need to think about what you focus your time on during the day.
Getting rid of a few bad habits might do the trick to turn your "crazy busy" days into more productive, "get it done" days.
If you sit down and think about it, how many times a day do you take 5 minutes for yourself that maybe turns into a 20 minute Pinterest scroll? How many times do you check Facebook…email…take a quick look at what's on sale at your favorite online shop? All of those breaks add up and can be some of the biggest productivity killers in your life.
Every morning, I know I wake with the best intentions saying, "Today, I'm going to kill it and be productive and focused." Then my reality sinks in and I'm hit with a gazillion tasks and even more distractions and productivity killers.
Identifying Productivity Killers
I feel being highly productive is a key factor to success but sometimes I forget that busy is not productive. Do you know the difference?
Keeping yourself busy is not being productive. Being productive is working smarter.
This article explains in detail the differences between busy people and productive people. Which are you?
I've found by using the time blocking method, I'm much more productive and less frazzled because I schedule my time efficiently to make the most of my day.
This method helped me identify my productivity killers when I analyzed exactly what I did in a day and how much time each task took.
Technology Distractions
Oh, that little amazing device called a smartphone with all of those awesome apps!
I don't know about you but I just can't have a red circle with a number in it on my screen.
If I see a red circle I have to check it!
So, I take a five-minute break to check out that black hole of Facebook and that leads to Snapchat, Twitter, Instagram, LinkedIn, and finally, Pinterest…because I love ALL social media.
And let's not forget checking emails…that's another time zapper.
Before I know it an hour or more has passed and I've accomplished nothing of significance.
Are you saying "same"?
So what can we do? Placing your phone away from you – across the room – makes it more difficult to take a "quick" five-minute break!
Not Planning Ahead
Not having a plan of action can be a big drain of time.
If you don't have direction and focus or a schedule, much of your time is sucked up wondering what you need to accomplish next.
Even if you only have time for a quick two-minute plan your day session, you will benefit greatly. Distinguishing between priorities, important tasks, and things you can deal with later helps you plan your day accordingly and not let anything slip through the cracks.
Learning how to effectively plan your week will also help you stay productive and get it all done.
Perfectionism
Can you see me with both hands waving in the air? This is one of my biggest faults!
I want everything I do to be perfect. This is something I am working on ALL of the time.
I can't tell you the amount of time I have wasted striving for perfection…something I will never reach. But I allow this to cause extra stress, to make me drag my feet, and to not be as productive as I can be. How many of you understand this?
Now I'm not advocating for anyone to do substandard work. But I am saying that sometimes we stress over things when no one else will notice or care.
Take a step back and realize what you've accomplished is awesome and fantastic…and move on to your next task!
Multitasking
Multitask…multitask…multitask! We hear this far too often. In fact, I used to be proud to tell everyone I was a great multitasker. I am here to tell you that multitasking doesn't save time nor does it make you more productive.
When multitasking you may feel that you're getting more done, but you're actually getting less done in the process.
It has been proven that multitasking actually costs you time because you lack the focus you need to do each task properly.
Our brains are incapable of processing multiple tasks at the same time, so our brain switches between the tasks and actually can slow us down by as much as 40%.
Since I've started monotasking, I know I'm much more focused and make fewer mistakes. I'm able to complete one task and easily move on to the next without feeling the burnout from multitasking.
Letting Clutter Weigh You Down
You might not realize just how much clutter clouds your focus and weighs you down, but it does!
Clutter causes stress and your mind will focus on what you want to do about the clutter instead of focusing on the task at hand.
Organization is key whether you work at home or in a workplace. If things are not in place, it will cause you to feel frazzled and you'll waste time looking for items.
Take a few moments and clear the clutter before you sit down at the grindstone. Ten minutes spent clearing your space will save you loads of time throughout the day and help keep your focus where it should be.
Identifying and learning to overcome your productivity killers will help you have better days.