Easy and Quick Meal Prep Tips You Need to Know
School is in and that means after-school activities, homework, and countless other obligations that keep you running. Who has the time to cook or even think for that matter? This brings about an endless cycle of unhealthy eating and spending unnecessary money by grabbing fast food on the go. But if you meal prep weekly, you are combating both of these issues in one step. Here you will find some easy and quick meal prep tips you need to know.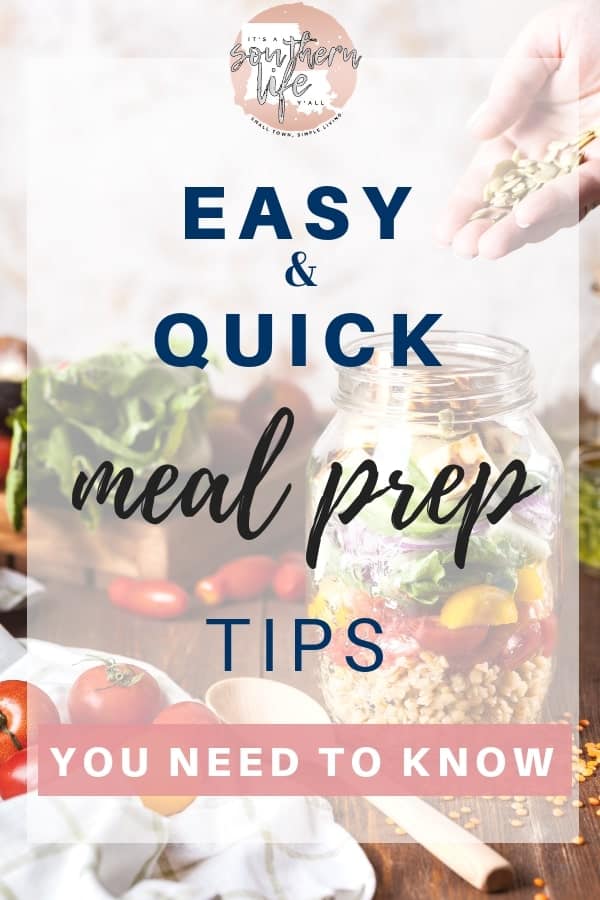 (This post may contain affiliate links. What does that mean to you? Well, if you click on a product and make a purchase, I may receive some compensation at NO charge to you. If you want to read the boring stuff from my full disclosure can be found here.)

We all lead busy lives and when you add your family into the mix, your extra time is cut even shorter.
Often making homemade, healthy meals each day is a constant struggle and is often the event that we take advantage of shortcuts and grab unhealthy, fast food. Instead of just giving in and going through the local drive-thru or ordering pizza three nights a week take a little time and plan ahead.
Give meal planning and prepping a try!
Here are a few easy and quick meal prep tips to know about to help save time, money, and still prepare healthy meals each day for your family.
Easy Quick Meal Prep Tips
What is Meal Planning?
Before you can start on your meal prep, you really need to plan!
The best way to start is to write down some of your families favorite meals and then plug them into your meal planner for the week. I love to pepper in a new meal (usually found on Pinterest) or two to give a little variety.
I don't know about you, but I find having a detailed shopping list saves me loads of money in the long run. I absolutely hate running to the grocery store without having a plan. This is when I overspend and buy foods that are on the unhealthy side.
When you plan your meals, creating a shopping list is a breeze!
Not only does meal planning help you plan out your grocery list. It will also help you streamline your meal prepping.
This is going to help save you time because you aren't running to the supermarket every day trying to figure out what to get for dinner that night, which none of us have time for anyway…that's where we fall into that fast food trap!
Here is a rundown of how I like to plan my meals. This is the easy and quick meal plan and prep that works for me. Start with my plan and tweak until you have the perfect version that works for you and your family.
How Many Weeks to Plan For?
Because of my constantly changing schedule, I like to plan one week at a time. But the first thing you should decide is exactly how much meal planning you want to do.
Think about how much time you have for meal planning and prepping, how often your family likes to switch up recipes, and realistically what you can spend at the supermarket for planning these meals. Once you have all of this down, this will make your planning easier.
You should also consider how much room you have in your refrigerator and freezer. I simply cannot plan for 3 weeks of meals ahead of time with the size of my freezer. My lack of freezer space is a top reason for my one-week planning.
I think one week is the perfect amount of time to start with. Don't forget when you are planning, you are including ALL meals and snacks for the week for your entire family…breakfast, lunch, dinner, snacks, and desserts. And don't forget to include the brownies you need to bring to school for birthday day. (:
A Good Way to Start Meal Planning
If you're not sure where to start just take a look at what you already have on hand. Take note of everything in your pantry and refrigerator, write it down, and see what meals you can make from those ingredients.
I know I tend to throw out food because I failed to plan. This will be a great way to make sure you use everything on hand before it expires and an easy way to slide into this whole meal prepping thing.
Once you have those meals down, start considering other meals for the week.
If you know you will be pressed for time, try to think of meals you can make ahead of time or that can be made in the slow cooker all day while you are at work.
It's All About the Details
Once you have started noting down some meals you would like to make during the week, try to be as detailed as possible. If you think you will have leftovers from a chicken dinner in order to have lunch for 2-3 days, note that in the plan!
This helps you reduce how many lunches you need to prepare, which will save you a lot of time when it comes to preparing your different meals for the week.
After listing the meals, make another list with all the groceries you will need to purchase.  
Be Flexible
While planning every meal is a great way to save time during the week, there are going to be some situations where it doesn't go quite as you planned. Make sure you leave some room for flexibility in your meals and meal planning.
If a situation calls for an unexpected celebration, just adjust your week accordingly and then enjoy your night out. Many times we fall victim to trying to stay too rigid to our plans. This makes us quit a good thing. By remaining flexible, you will have greater success in this new method of planning for the week.
Meal planning is meant to simplify the process, not restrict what you can and cannot do.
Having Leftovers?
Always try to think about leftovers or using certain ingredients in your meal planning that can be used for multiple meals.
If you know you want to make chicken and dumplings and are going to buy a pack of chicken breasts, buy more than you need and freeze them. This lets you have enough chicken for that meal, but also for chicken soup, salads, sandwiches, or other dinner ideas.
You are going to save money and time by having the extra chicken on hand.
Meal Prep vs Meal Planning — What's the Difference?
Meal planning and meal prepping are often confused, but these are actually two entirely different things.
With meal planning, you are simply deciding what your future meals will be. But when you meal prep, you actually buy your ingredients and start getting certain aspects, if not all of the meal, prepared, so very little needs to be done each day when cooking time arrives.
Types of Meal Prepping
There are two basic elements to meal prepping: chopping vegetables and putting ingredients for meals into containers and actually cooking parts or all of the meal. You can do one or both of these options depending on how much time you think you will have each evening.
Some people simply do the prep work, such as getting all their veggies chopped, rice measured, and snacks into portion baggies to be used during the week.
I, on the other hand, prefer to spend 2-3 hours cooking on Sunday afternoons to free up my entire evening.
If I choose to prep only the ingredients and cook later, I use THIS
to keep my cooking time to a minimum.
Containers
When you are planning on prepping meals, you need to be careful with the types of containers you use.
These containers are not just storing the ingredients and cooked food items but meant to keep them fresh in the refrigerator or freezer for an extended period of time.
You need to be careful what you choose to store items in and how they are stored.
Here are some recommendations for food storage containers:
Choose containers with airtight lids
Make sure that your containers keep the food fresh with airtight lids. I prefer to use these CONTAINERS
. They come in a variety of sizes and have single and multiple compartment types and stack perfectly in my fridge or freezer. They are also microwave and dishwasher safe…a big plus in my book!
Use mason jars
Mason jars are perfect for storing certain items and meals. For example, if you like to take a salad to work, try putting each day's salad in a separate jar. Choose the wide-mouth mason jars and add the denser items at the bottom. The greens should always be at the top so they don't get wilted or weighed down. Keep your salad dressing in a separate container.
Consider multipurpose casserole dishes 
When you are actually cooking bigger meals ahead of time to just be reheated each evening, you want to use multipurpose casserole dishes
. Use glass dishes that you use for baking, but that can also be used for storing them in the freezer. Just make sure you leave them out in room temperature after cooking to cool down before freezing them, or they might crack.
Tips For Meal Prepping
As you get started with meal prepping, there are some other things you need to keep in mind. Follow these simple tips for prepping your meals after you are done with meal planning:
Cook all your meat at once.
Label every container so you know when to use it by.
Use ingredients that can be prepped for multiple meals.
Get freezer bags together with ingredients that will go in the slow cooker.
Meal Ideas For Prepping
Here are some different meal ideas that work perfectly with meal planning and meal prepping.
Put together different overnight oatmeal jars
To get some healthy breakfasts prepared, add overnight oats to multiple jars, one for each day of the week. In addition to the oats, you can add different toppings for each day. Some toppings to consider include cinnamon, sugar, slivered almonds or other nuts, dried fruit, berries or fresh fruit, raisins, and granola.
Make egg muffins
I love making egg muffins! I make this quick and easy breakfast on Sundays in less than 30 minutes using everything but the kitchen sink…well, not literally! But I do use leftover veggies and meats from my other prepping.
Roast your vegetables beforehand
To get vegetables ready for lunches and dinners throughout the week, spend one day roasting all the vegetables at one time. Choose vegetables with about the same cooking time, roast them together, then place in containers and freeze them.
Use vegetables instead of pasta
To make healthy, low-carb meals and meal prep at the same time, consider using a vegetable spiralizer like THIS
one. Have you ever tried veggie spirals? YUMMY!
THIS
 spiralizer takes vegetables like zucchini and squash and creates 'pasta' out of them. Spiralize your veggies on a Sunday, then save them for the week's 'pasta' meals.
Prep your meats
Decide what meat you want to use for multiple meals, then bake or cook it all at the same time. Do this in the oven or your slow cooker. Meat like chicken breasts, fish filets, and strips of steak work great for this.
Salads
For your salads, you can make it faster to put them together by having all of the greens and vegetables together in containers. Keep all your greens in one big container, and all the chopped veggies, cheese, and other toppings in another container.
With these easy and quick meal prep tips, you will be on your way to both meal planning and prepping in a snap. This is going to save you a lot of time and money, not to mention help you make healthier meal choices!
Like this post? Pin it!