How 30 Minutes of Planning in the Morning Will Save Your Day
All you need is 30 minutes. Really! Just 30 short minutes can save you a tremendous amount of time later in the day. If you are like me, after hearing this, waking up 30 minutes earlier is a no-brainer. How 30 minutes of planning in the morning will save your day.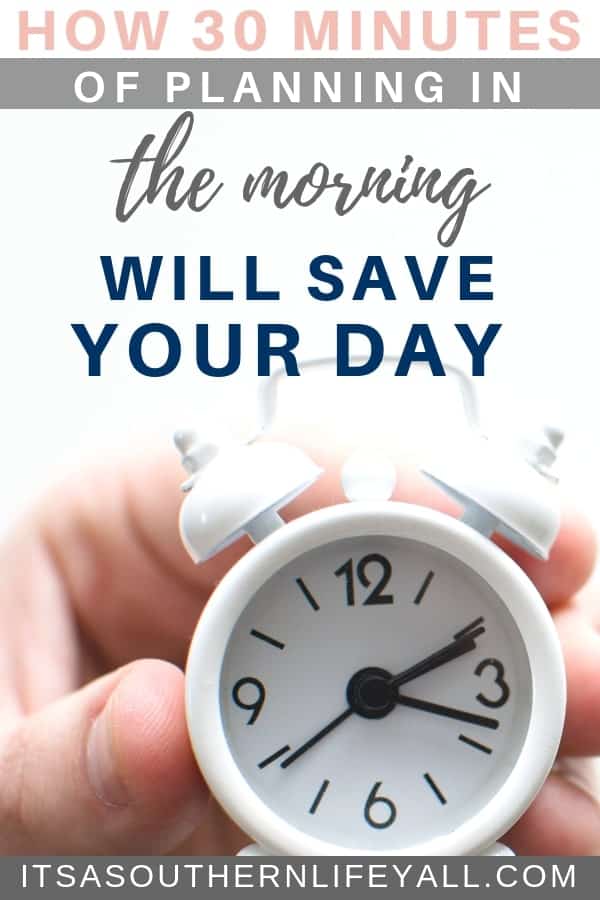 (This post may contain affiliate links. What does that mean to you? Well, if you click on a product and make a purchase, I may receive some compensation at NO charge to you. If you want to read the boring stuff from my full disclosure can be found here.)
If you are a follower of my blog, you know I'm a planner and routine follower.
I strongly believe when you plan ahead and have a rooted routine, your days (even the chaotic, crazy busy, no wiggle room in the schedule ones) will flow at a better pace.
Planning your day before it starts is one of the most important things you can do to remain on track and focused.
Waking up early to include 30 minutes of planning in your morning routine will increase your productivity throughout the day.
I have said this before, but it does bear repeating…If you start your day late and run out of the door without a plan, you will spend the rest of your day "catching up."
No plan=more stress, problems, and the possibility of extra work!
Who wants that?!
How to have a more productive and managed day?
I recommend and practice planning your day before it begins. When you dedicate 30 minutes of planning in the morning, you will reap the rewards of less stress and more productivity later.
Here are 3 ways planning ahead will save your day:
Set your priorities — What's on your to-do list and what task is the most important? Prioritize your day and tackle these tasks first to save you from an end of the day scramble.
Know your calendar — I hate missed appointments! Review your calendar and know what you have scheduled for the day. Don't forget to include drive times to keep your schedule in tip-top performance mode.
Follow the "2-minute rule" — If it takes less than 2 minutes, handle it now! So many of us procrastinate with the little tasks and save them for later…or forget them which leads to bigger issues later. Start your productivity momentum early and tackle those little tasks right away so you don't lose them in the daily work grind. Want to know more about the 2-minute rule? Read Getting Things Done: The Art of Stress-Free Productivity by David Allen.
Planning your day won't prevent "life" from happening, but it will help you avoid forgotten deadlines and other small errors that waste your time.
By staying ahead of the game, you will remain organized and composed — and most of all, PRODUCTIVE!
Don't forget to plan before you start!
Implementing 30 minutes of planning in the morning will do wonders for your productivity throughout the day along with your time management.
If you are looking for a better way to schedule your day, read How to be Insanely Productive with Time Blocking!
How do you plan your day? I would love to hear from you!