How to Make Money Testing Websites
In today's economy, many people are looking to supplement their income by adding a side hustle. But finding legitimate means of online income can prove to be a task in itself. If you've heard of earning money testing websites and thought it was a scam, I'm here to clear up that misconception. It IS possible to make money testing websites!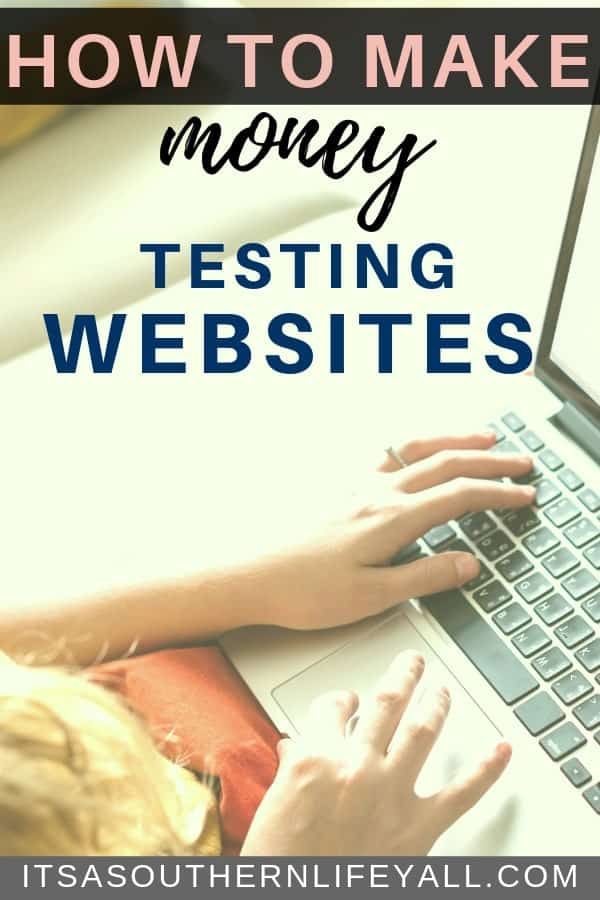 (This post may contain affiliate links. What does that mean to you? Well, if you click on a product and make a purchase, I may receive some compensation at NO charge to you. If you want to read the boring stuff from my full disclosure can be found here.)
The process to earn money by testing websites online is very easy and actually pays well for the work necessary.
I know…I know…if you are like me, you are probably still shaking your head in disagreement as you are reading this. But just keep reading because I will give you proof.
Like you, I see all of the work at home and online scams. Heck! I even see bloggers claim you can make $20,000 in your first month of blogging — AND only work 4 hours a week. To clarify, that claim is complete BS. Blogging is a marathon, not a sprint. Although, with hard work and dedication, it can be a lucrative career path — BLOGGING IS NOT A GET RICH QUICK SCHEME!
When I first read the information on how to become a website tester, I thought it was too good to be true. I had no intention of sharing this info — until I finally decided to test it out for myself. But more on that later…
How Website Testing Works
Website testing is actually very simple and doesn't take any special skills. You just need the ability to follow simple instructions, record your screen (with company provided software), and navigate websites.
In many cases, once you sign up to become a website tester with one of the companies below (or the many other websites you can find in a Google search), you will be expected to complete a simple test in order to qualify.
Signing up to make money testing websites is easy
The website tester qualifying test is relatively simple. You only need to follow the directions and navigate a website recording your experience in relation to the questions asked. I promise it's easy peasy!
I tested for one of the companies and was accepted the following day. The process of navigating the website took 15 minutes and I was only asked to complete a task and speak my thoughts as I did so.
Continuously sharing your thought process and honesty is the key.
Top User Testing Websites
You can find a ton of websites on the internet that will help you make money testing websites. Below are my top picks for trusted sites.
UserTesting, in my opinion, is one of the best user testing websites. Website testers are paid $10 for 15-20 minutes of work and pay comes via PayPal 7 days after work has been completed.
I personally went through the process of qualifying and completed one assignment to verify payment once I read about website testing. As I said earlier, I thought this idea was just too good to be true.
UserTesting suggests you remain logged in to hear new test notifications, but they also send email updates.
TryMyUi has a sign-up process very similar to UserTesting and pays $10 per completed tests.  Payments are made via PayPal every Friday.
UserFeel is similar to the above with a qualifying test and $10 payout. Payments are made via PayPal or Payoneer (which I've never used) approximately one week after the test has been completed.
UserLytics uses a simple sign up process and you qualify for tests by completing your profile. At the moment, UserLytics does not use a qualifying test. Payments are made via PayPal once a week and you make $10 per task.
Ways to maximize your earning potential with user testing websites
Don't just sign up for one testing website — sign up for as many sites as possible. This is very important if you are trying to earn a nice side hustle income because earnings are limited to available opportunities. More sites=greater opportunities. But please research each site before you submit your information.
Opportunities are available on various devices, so be sure to list all of your available devices (e.g. phone, tablet, laptop). You want to qualify for as many opportunities as you can.
Are you looking for other earning opportunities while waiting for more website tests? Why not try paid surveys? I highly recommend Survey Junkie to make a little extra spending cash. Market research paid surveys are easy ways to earn extra moolah!
It's easy to make money testing websites and the pay isn't bad for the work required. If you test 3 websites in an hour, that's $30 an hour. Complete that daily and it adds up to $210/week, $840/month, and $10,080/year. That's not too shabby!
If you are looking for other quick ways to make money before the holidays, read my post Ridiculously Easy Ways to Make Money for Christmas. I list oodles of quick and easy ways to make over $1000 to keep you debt free when it comes to Christmas spending.
Would you like to learn more about side hustles? Drop me a line and let me know what you are interested in. I'll be happy to research and give you an honest review.