How to Organize Your Kitchen Counters When the Clutter is More Than You Can Handle
Some of my fondest memories are of Sunday lunch at my Grandma Pearl's house. Although her house was small, our entire family gathered in her kitchen for some of her AMAZING CAJUN COOKING and hearty conversations. As a child, grandma's kitchen was my favorite place to be.
In our family, the kitchen is still the gathering spot of our home! We create wonderful meals and memories here…but being the area of the home with the most traffic also means it's one of the hardest rooms to keep tidy.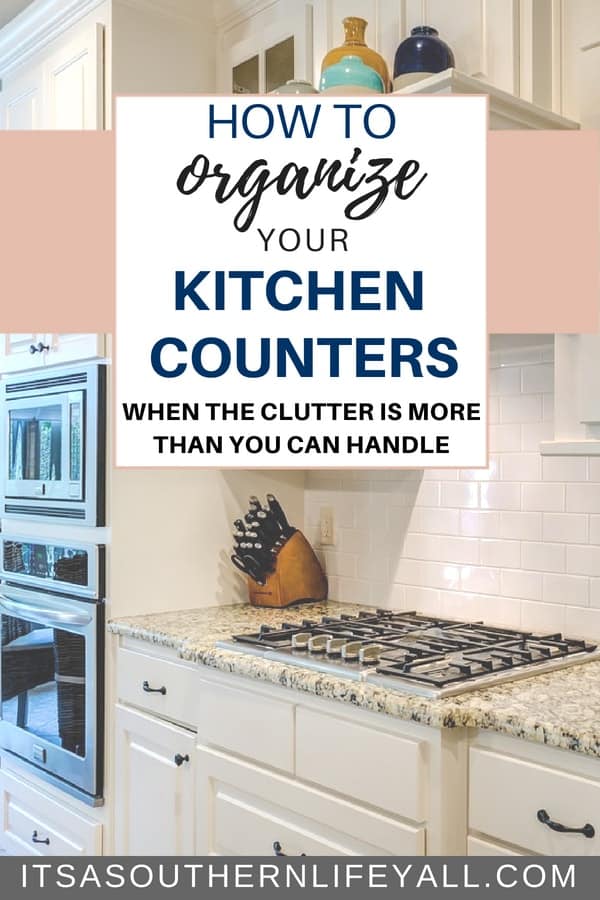 (This post may contain affiliate links. What does that mean to you? Well, if you click on a product and make a purchase, I may receive some compensation at NO charge to you. If you want to read the boring stuff from my full disclosure can be found here.)
A cluttered, unorganized kitchen can make it difficult to not only find everything you need but to relax and actually enjoy the space. So, if your kitchen counters could do with a little organization, I'm going to give you some of my best tips on how to organize your kitchen counters when the clutter is more than you can handle.
1. What do you truly need and use
The first step you should take is to assess exactly what needs to stay and what needs to go. When you need to organize your kitchen counters, you should ask yourself the questions I tackle in my post on tackling clutter. You can read it HERE! It will help you decide what should stay and what should go.
If you have a fairly large kitchen, it's going to help if you split this task into small areas and tackle each area separately. Looking at a big picture tends to be overwhelming. But taking that big picture and breaking it into sections makes it all much more manageable.
As you really look at what you have, throw away any rubbish you come across and organize what's left into groups of items. For example, place any mail you may have in a pile and group utensils together.
2. Only leave out what you use
Although you had to have that margarita machine because it was such a great deal, do you use it on a regular basis? Why is it out?
I only keep appliances out on my countertops if I use them several times a week. So in my home, you will only see this Keurig
. I am definitely not a fan of clutter!
Do you have any other appliances on the counters that are rarely used? If so, free up space and store them away. Or better yet, get rid of them by donating them or placing them for sale.
3. Use decorative containers to hold utensils
Utensils can make your kitchen counters look extremely cluttered and disorganized. I love having my utensils handy but hate the look of them on the counter unless they are in pretty things. I use this Pioneer Woman Pitcher
to hold my most used cooking utensils. I keep this next to the stove to ensure they're easy to grab hold of when I need them most.
You can actually use a wide variety of containers, from canisters to large milk jugs. I love flea markets and antique shops. This gives me the perfect opportunity to find many treasures to house several items neatly and beautifully in my home. And I can usually get these items for a steal!
4. Make use of a decorative basket for mail
If you tend to store your mail on top of the kitchen counter (like me!), you'll notice it makes the room look really untidy. I found this adorable mail basket
which is just perfect to hold your mail until you are able to distribute properly. It's not only cute as cute can be, but will corral all of your mail in one spot.
But really, any basket or other decorative holders will do the job and look wonderful on your countertops.
5. Keep fruit in a bowl
Well, I'm sure you already know that I love vintage and antique. I have this charming antique painted tin bowl for my fruit, but other options are really affordable and can coordinate with your style.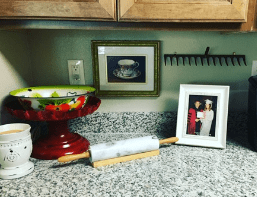 Baskets, bowls, fruit stands…these are all great when trying to keep your fruit from cluttering the counter.
Use my tips to organize your kitchen counters when the clutter is more than you can handle. Get creative and use something out of the ordinary as storage for your clutter. You might even find tackling this task could be fun if you think out of the box!
What are some of your favorite kitchen storage ideas? I would love for you to leave them in the comments below.