I pride myself on being prepared and organized but I still run into budgeting issues. Well, that's until I discovered the missing piece of my budget — my budget game-changer, sinking funds. If you are asking, "What is a sinking fund used for and should I have one too?" I'm here to give you the scoop and YES, you should!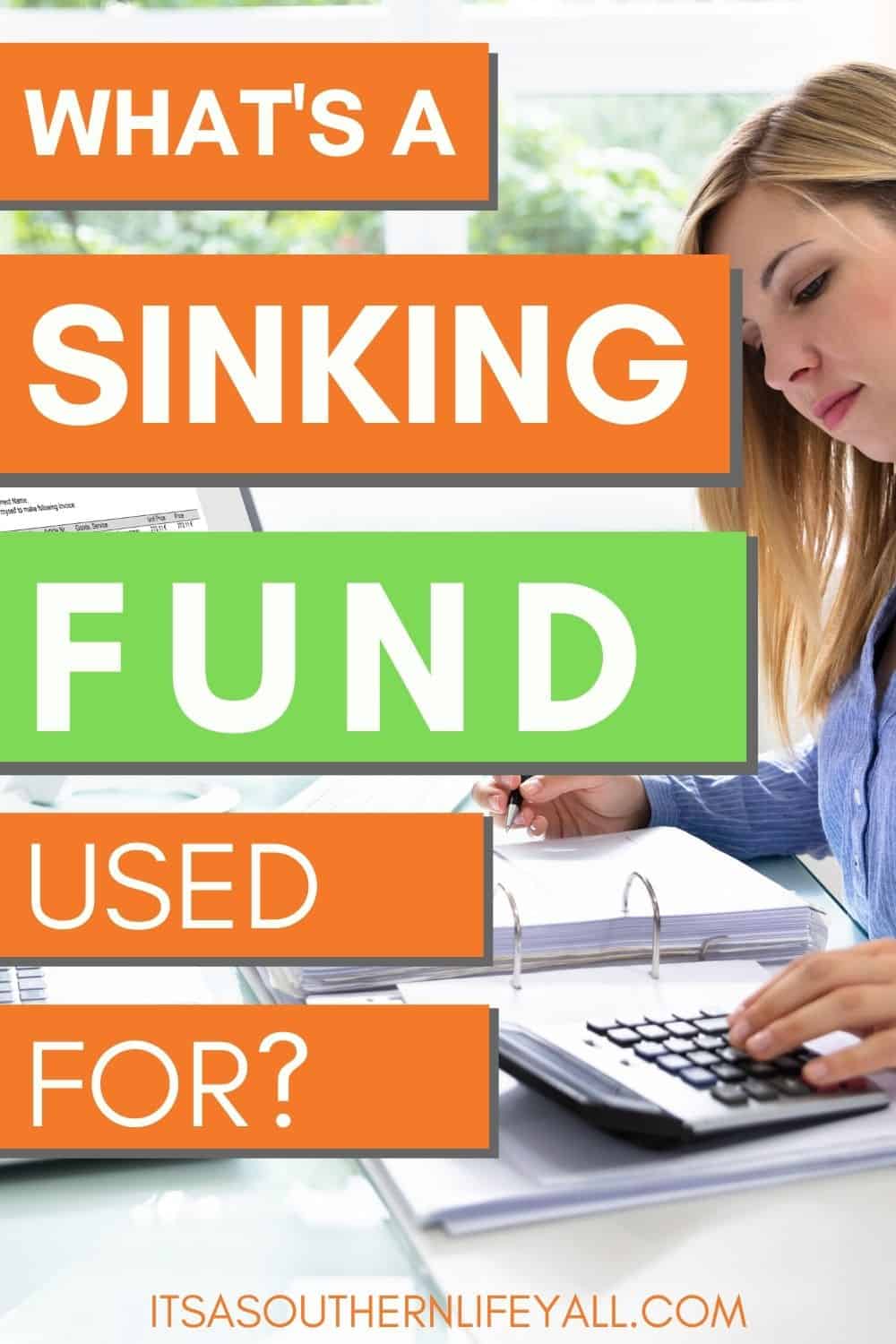 (This post may contain affiliate links. What does that mean to you? Well, if you click on a product and make a purchase, I may receive some compensation at NO charge to you. If you want to read the boring stuff, my full disclosure can be found here.)
Month after month, I plan and make sure my bills are paid in a timely manner and use the cash budget envelope system to control my spending.
I even start planning for Christmas as soon as Christmas is over. If that intrigues you, find out how I plan HERE.
Still, I wasn't planning enough because WHAM! an added expense would stretch me to my financial limit and I found myself digging into my emergency fund for non-emergency spending.
What was I missing? How could I plan better?
In walks my life-changer — sinking funds, a simple idea that prepares you for the times in your life that you need just a little extra but definitely want to avoid digging yourself deeper into debt.
What is a sinking fund?
Hang on because this is going to blow your mind.
A sinking fund is another budget category that gives you a way to prepare for those infrequent or irregular expenses.
It's just another way to save so you aren't hit with an expense that rocks your world and makes you tighten the belt even further.
You've probably used a sinking fund without even realizing it by saving to make a purchase instead of using a credit card or taking a loan. Do you have a Christmas fund? Well, that's a sinking fund.
I include sinking funds in my monthly budget list to make life just a little smoother. Trust me, this will up your finance game to a new level.
Sinking Fund vs Emergency Fund
A sinking fund is saving for a specific reason. You have a plan of what you are saving for and when you will use it.
An emergency fund is for emergencies or the unexpected; natural disasters or the loss of income.
Both are saving plans but are created for entirely different reasons. That's why I was upset with myself for having to dip into my emergency fund. An emergency fund is for those out-of-the-blue expenses.
What Is A Sinking Fund Used For?
Even though I'm a planner with my finances, when I first started budgeting I was missing this HUGE component in my monthly budget. I had expenses that were irregular that I wasn't planning for and expenses that I knew of but relied on using a card or, worse yet, dipping into my emergency fund.
Although there is no hard and fast rule on what you should use your sinking fund for, many expenses would naturally fit into this category if you want to remain debt-free.
Sinking fund examples:
Holidays
Car/Home maintenance
Back to school
Birthdays
Property tax or insurance
When you use sinkings funds, you can be prepared and guilt-free with your spending. Want to get your spouse a new set of golf clubs but don't want to swipe your card? Hello, sinking fund and planning!
How you use your sinking fund is up to you. You may choose to be specific or broad with your categories.
This is even your chance to set aside a little each month for those unexpected expenses that you know you will need to cover. Setting aside a little each month to eventually replace your aging washer and dryer or AC unit will make those costs much easier when they "pop" up.
Want a new TV, set up a sinking fund. Want to plan for the inevitable appliance going out, set up a sinking fund. Get the idea?
Getting Started with Sinking Funds
The first thing you need to do is to look over your budget (Yes! You NEED a budget!) and decide how much you have available to save every month and what you want to save for.
Although our savings plans might be different, the basic steps of sinking funds are the same.
Decide on the amount of money you have available for your sinking funds.
List the categories/items you plan to save for.
Decide how many months you want to save for each item.
Divide the total amount by the number of months to determine how much you need to save monthly.
Transfer your money monthly into your sinking fund.
How Many Sinking Funds Should You Have?
Again, there is no rule for this but I wouldn't go too crazy. As with everything in your budget, you must remain realistic.
Personally, I strongly suggest you cover the three most common expenses:
Large Planned Purchases such as a family vacation or a downpayment on a car.
Unexpected Expenses like large household appliances or broken AC.
Expenses that are often Forgotten (and sneak up on you) like property taxes or back to school.
When you cover these expenses, you won't have to dip into your emergency savings or go into debt.
Where Should You Put Your Sinking Funds?
I prefer to use cash envelopes for most of my sinking funds but for larger funds (a car downpayment), I would open a separate account at my bank.
If you would rather have one saving account to deposit your sinking funds into, make sure you keep an accurate tracking method to chart your progress for each fund.
Now that you know what sinking funds are used for, I'm sure you see the simplicity in this ah-maz-ing budget category and why sinking funds are a game-changer when it comes to remaining debt free.