How to Clean Your House in a Jiffy
Including a free downloadable step-by-step guide to clean your home fast!
I get it! Life happens and before you know it you are overwhelmed by the mess and just don't know where to start. Have you ever felt this way? I can't answer for you, but I know I have felt this more than a few times in my lifetime. So the big question is, how do you clean your house in a jiffy especially when you feel overwhelmed and have limited time. If you follow this nifty little chart and my guidance, you will have your house in shape in less time than you think. I'm talking just a little over an hour!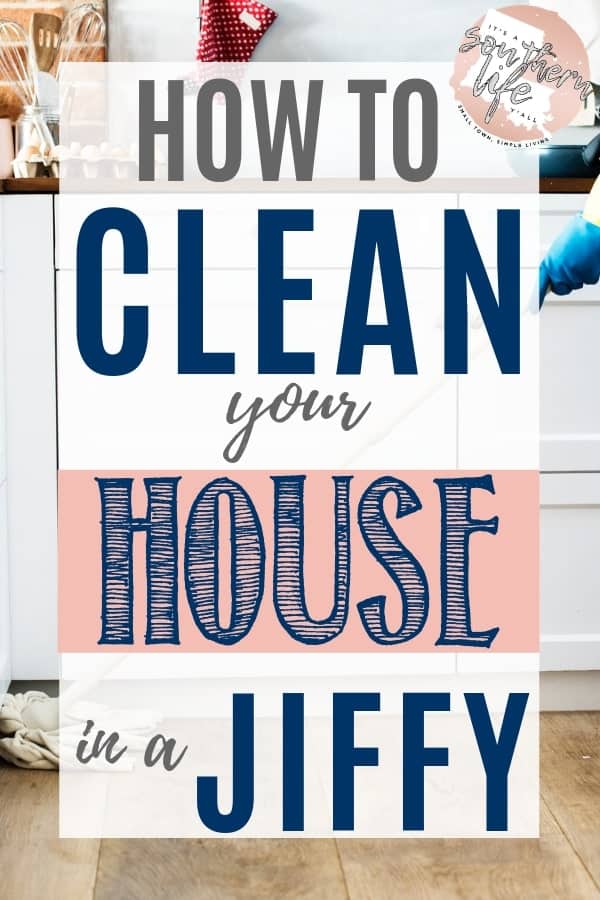 (This post may contain affiliate links. What does that mean to you? Well, if you click on a product and make a purchase, I may receive some compensation at NO charge to you. If you want to read the boring stuff, my full disclosure can be found here.)
Although you feel this is an enormous task that is unaccomplishable at times, trust me – You can clean your house in a much smaller amount of time (even around an hour) than you may actually think. To do this you must avoid distractions…so tuck your phone away or put it on airplane mode. I mean it!! No quick Facebook check, scroll through Instagram or looking up tips on Pinterest. Keep your focus and follow these simple steps and you'll see the sparkling clean home you love in a jiffy!
Always Start at the Top!
Start at the top and work your way down….we all learned about Newton and his discovery of gravity in school and how the apple fell from the tree. When cleaning we know the dust and dirt from higher surfaces will fall down. If you tackle the upper level last, you will have to backtrack and reclean. I always start with light fixers and ceiling fans and boy do those collect dust! I then wipe down furniture again using the start at the top method and save my floors for last. In my opinion, this is the easiest method for cleaning.
Are you ready to follow the steps on how to clean your house in a jiffy?
OK…let's roll up our sleeves, tie up our hair and get a great upbeat playlist going to get us all moving. We are going to spend no more than 10 minutes in each room and 5 minutes in the bathrooms. I like to set a timer to keep me on track…you should try this too. Setting a timer will also give us a general idea of how long we will take. Don't forget to save ALL of the floors for last.
Clear the clutter. I suggest you take a suggestion from one of my previous posts, 10 Habits for a Tidy Home, by utilizing catch-all baskets in your rooms to help with the piles of clutter. Baskets are just great when tidying up the clutter and breeze through these rooms.
Don't forget to start at the top and dust your fixtures and ceiling fans first. You would hate to ruin a clean surface by reversing this order.
Pick a spot in the room as your starting point and work around the entire room dusting surfaces, again working from top to bottom.
Grab your vacuum and the upholstery attachment and do a quick once-over the furniture. If you are in the dining room, a quick wipe down of the table and chairs will do wonders.
Bedrooms
Clear all of the clutter using a catch-all basket. This can be placed in the closet and picked up later.
Again, start dusting from the top.
Strip the linens from your beds.
Pick a spot in the room as your starting point and work around the entire room dusting surfaces and all furniture with a dusting spray and a microfiber cloth.
Remake beds.
Kitchen
Load all of your dirty dishes into the dishwasher.
Fill your sink with hot soapy water to use for cleaning purposes in the kitchen. I also keep a degreaser handy for hard to remove dirt.
As in the other rooms, clear the clutter from the counters.
Using a sponge dipped in the hot water, wipe down your cabinets and counters. Rinse your sponge as necessary.
Wipe down the surface of your stove. If you have removable burners and pieces, place them in the water to soak.
Wipe down all appliances.
Finish cleaning stove pieces and replace.
Bathrooms — Remember to change your timer to 5 minutes per bathroom!
Clear the counters.
Spray counters, sinks, tubs, and showers with cleaner and allow to sit while you move on to the next step.
Clean the mirrors.
Wipe down all previously sprayed surfaces.
Clean the toilet and wipe down the outer surface of the toilet.
Floors — Set your timer for 15 minutes…YES! That is it for the entire house. Move swiftly and follow these steps!
Vacuum first! I start at the far end of the room and work my way out. I use this vacuum because it is amazing at picking up everything and it is very affordable…trust me I have raised two daughters (the hair we have all left behind…I'm so glad to have a great vacuum). If you are like me, I like to get the most bang for my buck and am always looking for quality at lower prices. I highly recommend this vacuum!
Vacuum, DO NOT sweep, hard floors. Quickly go over your floors and use an attachment if needed for the corners. I generally prefer to sweep, but on quick jobs, a swipe of the vacuum over the floors does a great job.
Use a quick all in one mop on the hard floors. This one uses a quick drying solution and in my opinion, it gets the job done when doing this jiffy cleaning method.
How did you like my tips on how to clean your house in a jiffy?
Do you have additional tips for house cleaning in a jiffy? Obviously, these steps are not a deep clean of your home but will get the job done. I plan to write additional tips and create more printables in the future. Don't miss out on all of this great information! Sign up for my newsletter and stay up-to-date with my latest articles and tips.