My number one suggestion to bloggers on how to get more traffic from Pinterest is to create more pins. Pinterest loves loves loves new content and that is not only new posts to your blog, it's also creating NEW PINS. But how do you keep up when you are trying to consistently create new Pinterest content while juggling all of the other blogging plates?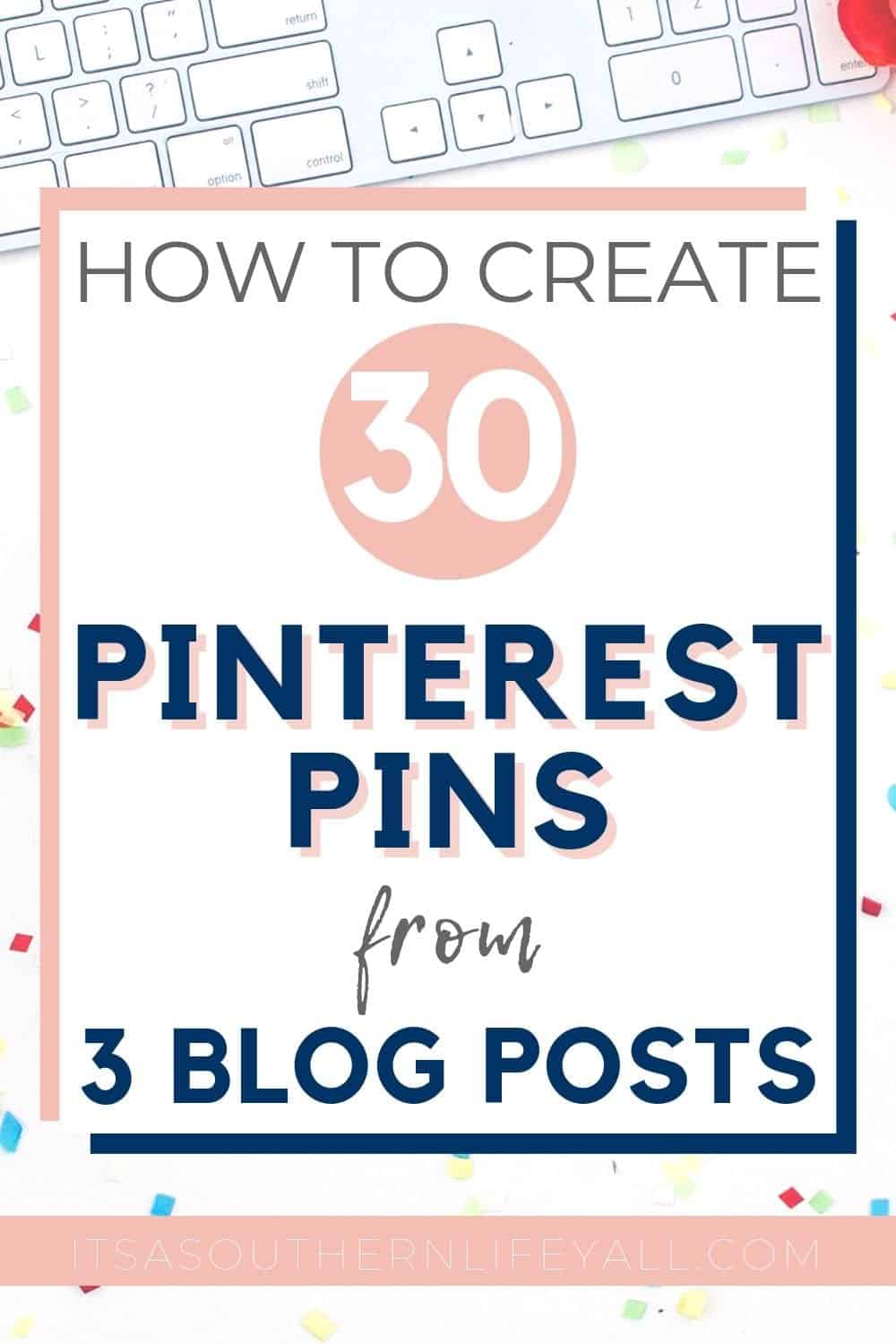 (This post may contain affiliate links. What does that mean to you? Well, if you click on a product and make a purchase, I may receive some compensation at NO charge to you. If you want to read the boring stuff, my full disclosure can be found here.)
PINTEREST! Whether you love it or hate it, it's undeniable that Pinterest is a powerhouse at driving tons of free traffic to our blogs daily. But the constant changes can leave your head spinning. The one constant is the need to consistently create new Pinterest content.
But who has the time to create pins every day?
I know for certain I have a hard time staying on top of constantly creating new and fresh pins. At least I HAD a hard time until I discovered how to create Pinterest pins from 3 blog posts in a fraction of the time.
30 pins to be exact…ONE MONTH OF PINS!
It's rare to enter a blogging group and not see some sort of discussion on Pinterest. From strategy to pins, many bloggers are trying hard to figure out how to maximize their click-through rate from Pinterest.
At times it can be frustrating…do you see me with my hand waving in the air here??? But there are also times when you are basking in the sweet rewards of a viral pin.
Even if all of the changes have you scratching your head and wondering how will you ever keep up. With the stats of 250 million monthly users and over 175 billion pins, how can you NOT try to stay on top of what Pinterest wants?
Lately, one of the hot topics is feeding Pinterest with fresh new content. Aside from posting new blog content daily, how do you keep up with this demand from Pinterest?
UGH! Just the thought of creating a new blog post every day has me exhausted. Heck, I struggle at times creating 2 new blog posts per week. When would you have time for anything else you need to do to keep your blog afloat?
Since for many of us creating a post a day is not a viable option at all, we have to do something else to deliver the fresh content Pinterest craves.
In fact, I am often asked how do I constantly create new Pinterest content and keep my blog traffic growing.
I guess it's time I finally spill the beans and share my secret on how to create 30 Pinterest pins from 3 blog posts in no time at all!
No matter how you look at it, we need to create more pins. But doing this is time-consuming and let's face it, our time is limited.
I have a plan that will cut your time down and enables you to create tons of fresh content for you to share on Pinterest.
You can easily create months of fresh content in a day using this concept!
Wait…what???!!!
Yes, this concept is super easy and can be done in a small window of time. Even brand new bloggers can use this concept and start driving tons of traffic to their blog!
How To Create Tons of New Pinterest Content in a Fraction of Time
It all begins with 3 posts!
I like to start with my top 3 posts but you will see that you don't have to stop there. (If you are a new blogger, start with your first 3 posts.)
Head on over to Google Analytics and scroll down on the home page. At the bottom, you will see a box titled "What pages do your users visit?". I use the last 30 days' view and see which posts are getting the most visits.
Take note of your top 3 posts.
Now you need 2 amazing headlines
Start by identifying your targeted keywords.
What is keywording?
Keywording is the process of adding specific words that your readers are searching for from your niche. By identifying and using keywords your audience is searching for, you are giving yourself more opportunities to get the clicks! And click-throughs are what we want!
Once you have identified what your audience is searching for, you can then start brainstorming those killer headlines.
Let's say you've written a post on creating a beginner's budget using a simple budgeting worksheet that you have made.
Some of the triggers for your audience may be:
budget
simple
beginner
worksheet
easy
Now you can sit and create your headlines using these terms or variations of them.
Pin Headline #1 – Easy Budget Worksheet for Beginners
Pin Headline #2 – Budgeting for Beginners with this simple worksheet
Both of these headlines are simple and straight to the point but are keyworded to catch the eye of someone searching for a beginner's budget worksheet.
Continue this process for your 2 remaining blog posts.
Now you have the basics of this simple concept and could whip out 6 Pinterest pins right now. But why stop there? We want 30!
Let's design the pins
For this step, I choose to use Canva. I love the ease of creating on Canva as compared to Photoshop. Don't get me wrong, I love to use Photoshop too. But when it comes to creating pins, I prefer Canva.
I have made this part super easy by creating my own custom templates that I cycle through for a majority of my pins. I have discovered that using templates takes the guesswork out of pin designs and makes this step happen in a jiffy.
Creating a template is a simple as taking your top performing pins and using the same design.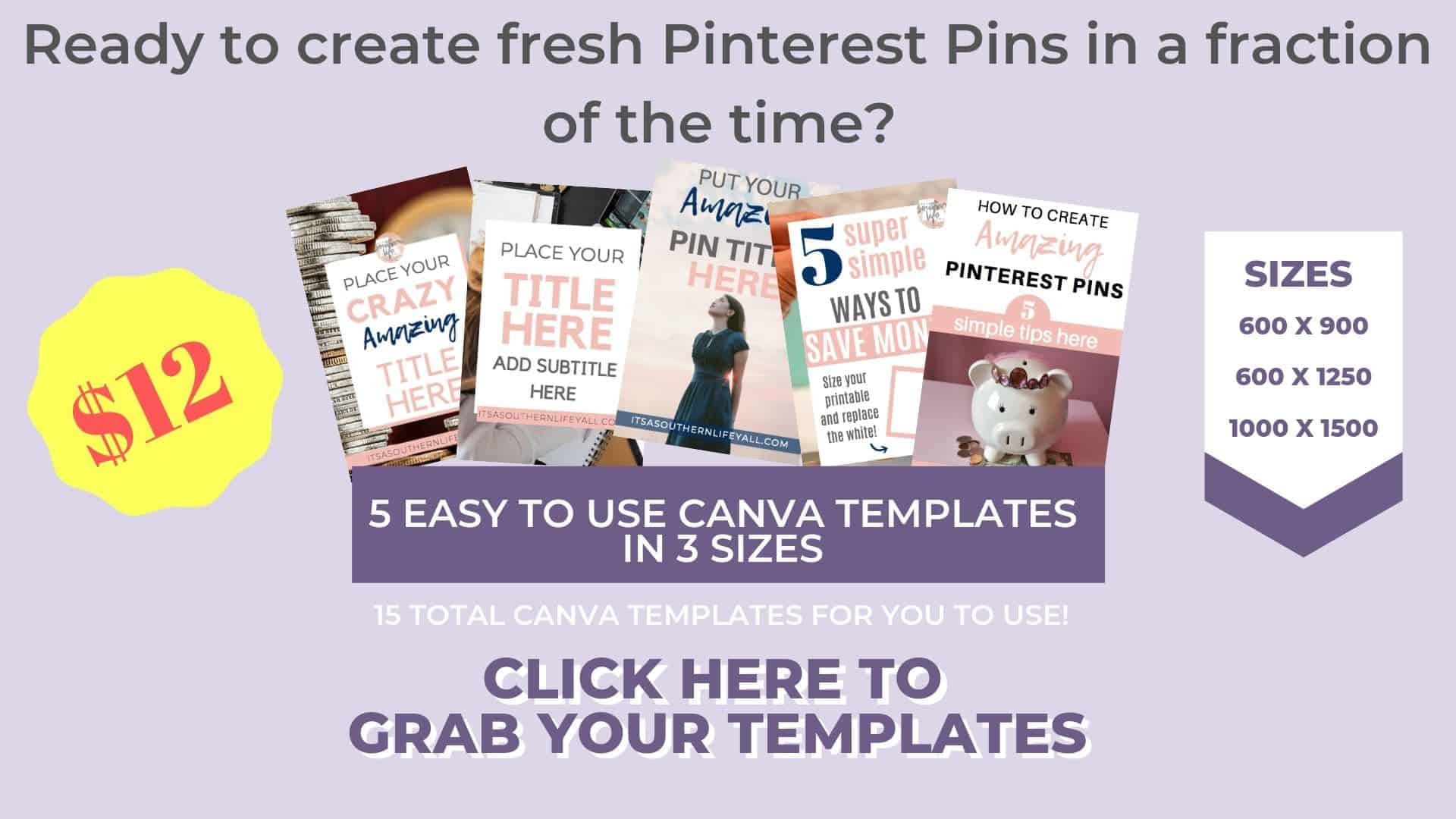 But wait! What exactly do you do?
You have 3 blog posts, 2 pin headlines for each post…what's next?
Take each headline and plug it into your 5 pin templates. Make each pin unique, that includes a different pin description for each pin.
Still a little confused? That's OK. Take a look at this graphic, it will help.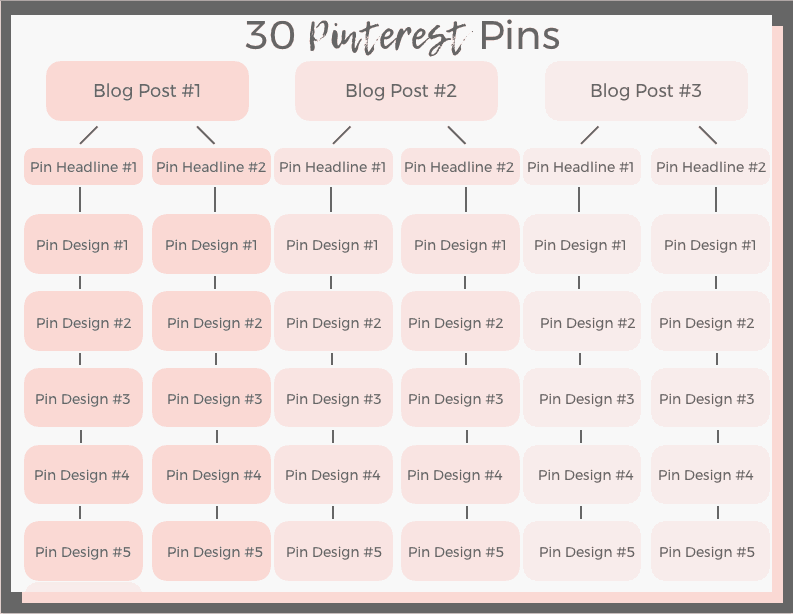 Pro tip: I like to stick to my brand colors for my first pins but will deviate as I am creating more pins. Be sure to always include your logo or your site URL on every pin for brand recognition. Lately, I've noticed bight colors working well…but this is a personal preference.
Congratulations! You have 30 NEW PINS!
Are you stumped on how to create pins with Canva? I have you covered with this post, How to Create Pins with Canva.
Publish Your Newly Created Pinterest Pins
Now is the time for you to prepare to share your new pins with the Pinterest world. How you do this is up to you. Whether you add your pins to your blog posts, schedule them to go out, or share them directly on Pinterest is up to you.
You have 30 days of pins to work with!
Pro tip: I have created a dedicated folder on my Mac for all of my new pins. Once I use a pin, I remove it from the folder.
Just so you know, having more pins for your posts gives you a better chance to hit more of your target audience. You can add new keywords to each description and show up in more searches. It really is a big win.
Want to learn more about what you should be doing on Pinterest RIGHT NOW? Click the image below. These are proven tips that work on Pinterest.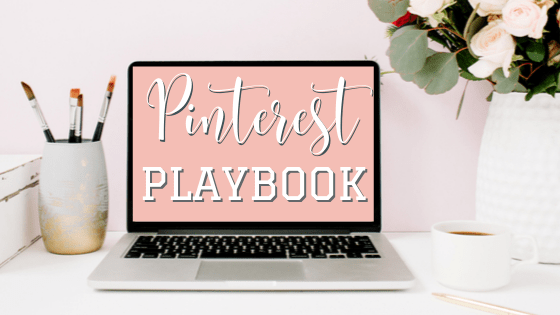 I am a manual pinner and have a very clear cut and defined strategy that works for me.
But if you want to try your hand at scheduling pins, I recommend Tailwind. Although I am not currently using Tailwind, I believe in the ease of scheduling your pins and then forgetting about them. If you CLICK THIS LINK you will a free month of Tailwind to try it out! So what do you have to lose?
Now here is a pro tip from me…I do not share a new pin every day of the month. I also like to create more than 30 pins at a time so I have more than just 3 blog posts to work with. This gives me plenty of fresh pins in the smart feed every week. Finding what works for you might take some time and adjustments but don't give up on Pinterest.
RELATED POST: The Ultimate Guide on how to Create a Pinterest Business Account
Want to snag my 5 BEST Canva pin templates in 3 different sizes?
Just so you got it straight, that's actually 15 templates! I have them in a special bundle just for you and in multiple sizes! Click the image below to grab them at the low low price of $12 today.
I know that's crazy right?! But I want to make the process of creating 30 pins as easy as possible for you. By using my templates, you will be able to crank out your 30 pins in less than an hour!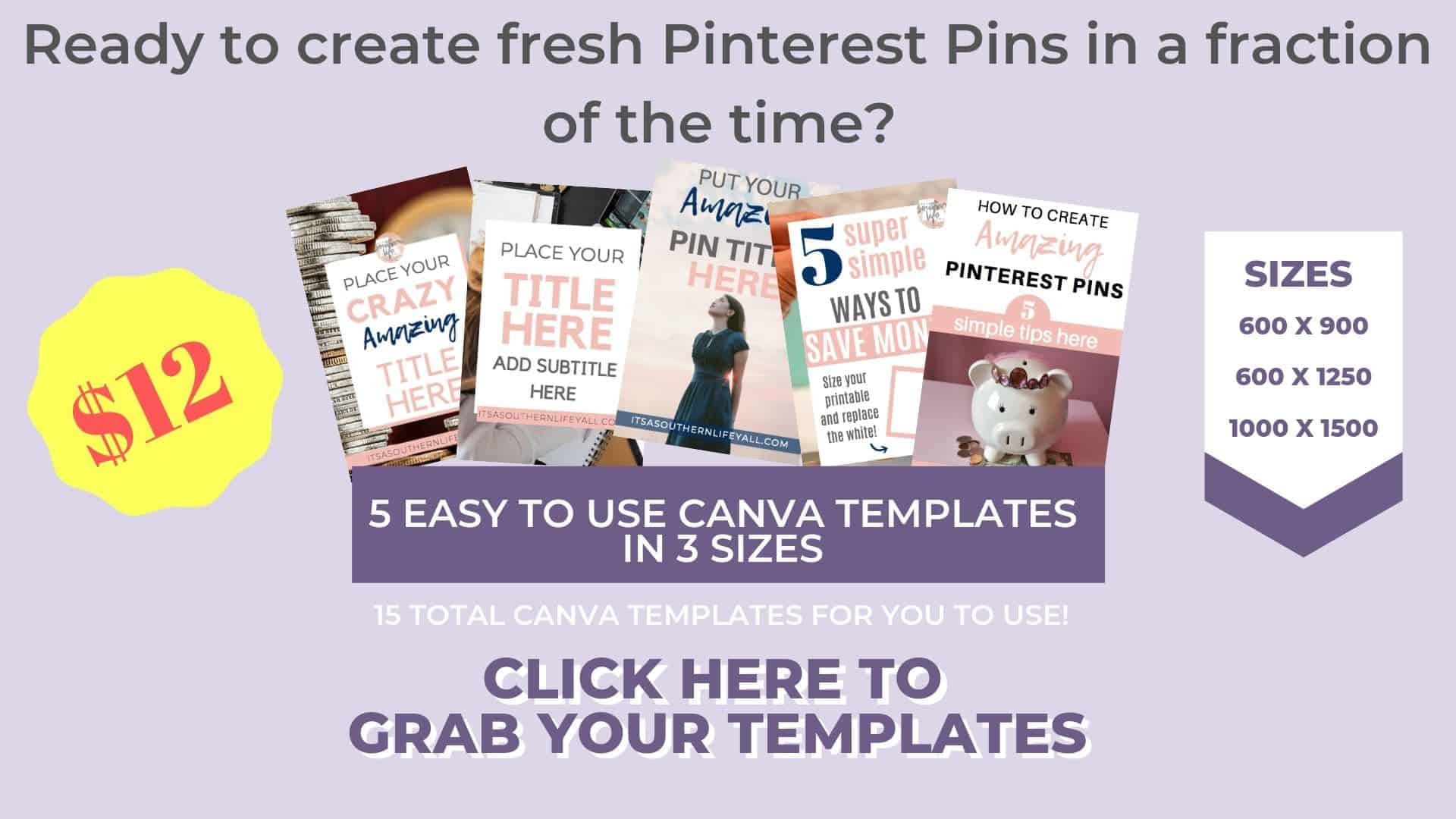 Want more Pinterest and Canva tips? Join my new Facebook group, It's a Blogging Life Y'all. This is where I'm available to answer your questions along with sharing many cool tips and tricks. I look forward to seeing you there!