I love-love-love Christmastime! It's my favorite time of the year. I dream of having an old fashioned Christmas with handmade ornaments that remind me of years long forgotten. Always the crafty, artistic type, my heart nearly bursts at the thought of creating rustic ornaments to adorn my tree. Even if you aren't the give me a glue gun and I will create you a masterpiece person you can easily whip up these adorable Farmhouse Felt Leaf Ornaments to help your rustic Christmas come to life.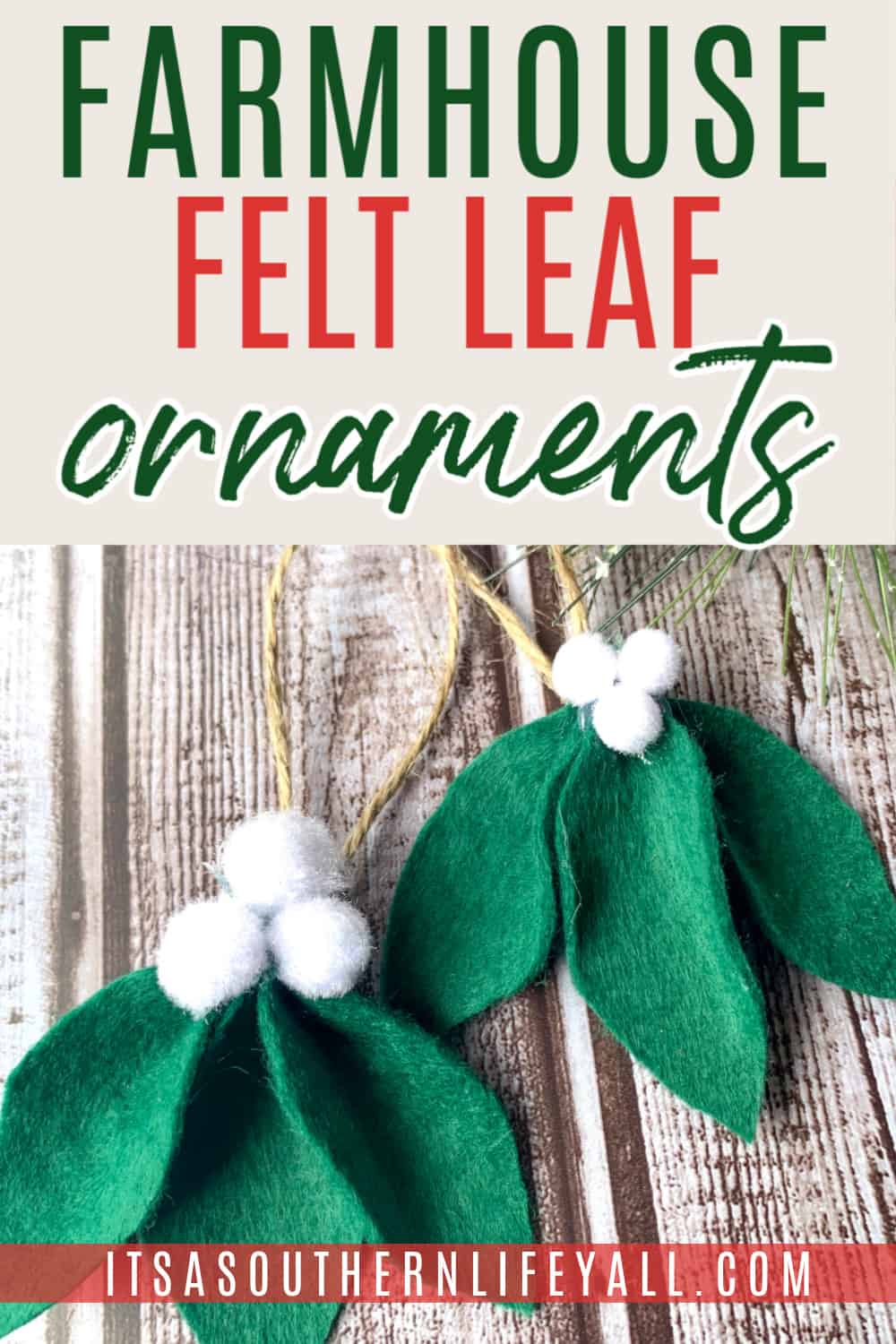 (This post may contain affiliate links. What does that mean to you? Well, if you click on a product and make a purchase, I may receive some compensation at NO charge to you. If you want to read the boring stuff, my full disclosure can be found here.)
**Be sure to check out the end of this post where I put a little spin on these ornaments and create a garland.**
Typically, I write on saving money and saving time but have recently decided to expand my approach to saving money. Even when you're watching your budget, I want you to know you can still achieve a magical holiday look.
No matter where I stand financially, I love having a crafty Christmas. Creating ornaments and other Christmas decor while saving money makes me do a happy dance!
If you are looking to make extra money to help with the Christmas cost, this post on Easy Ways to Make Extra Cash for Christmas can help. It truly is easy to make an extra $1000 before Christmas when you put some thought into it.
Now, I know some of you might be thinking it's too early for Christmas. But when creating handmade ornaments, I have to start early. Even the easiest farmhouse treasures take time.
So grab your glue gun and the supply list below…and let's get this party started!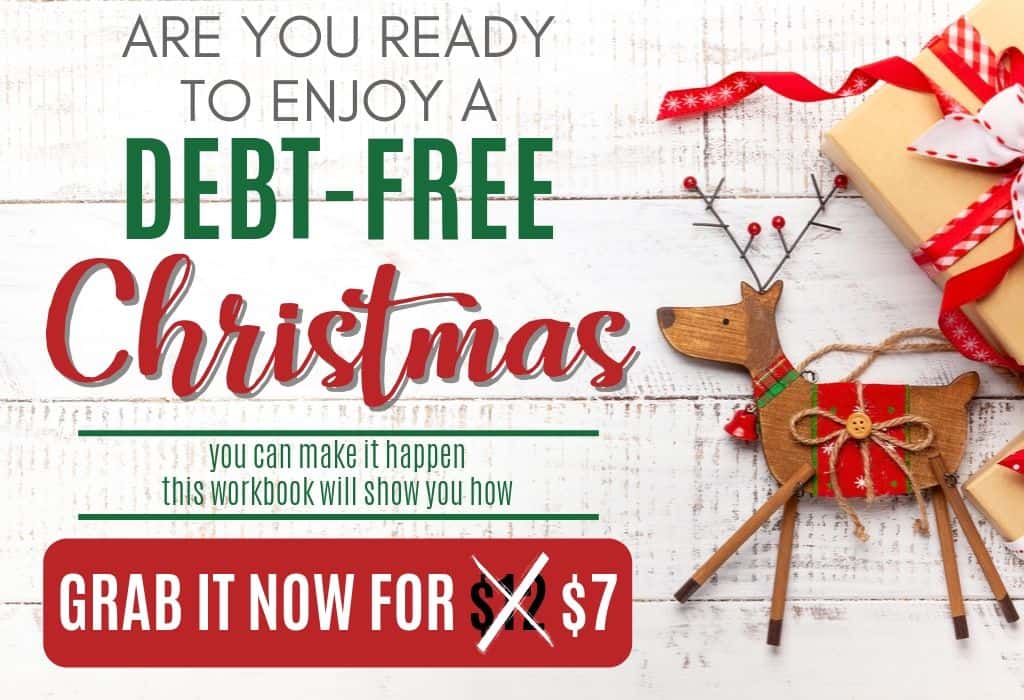 Farmhouse Felt Leaf Ornaments Supply List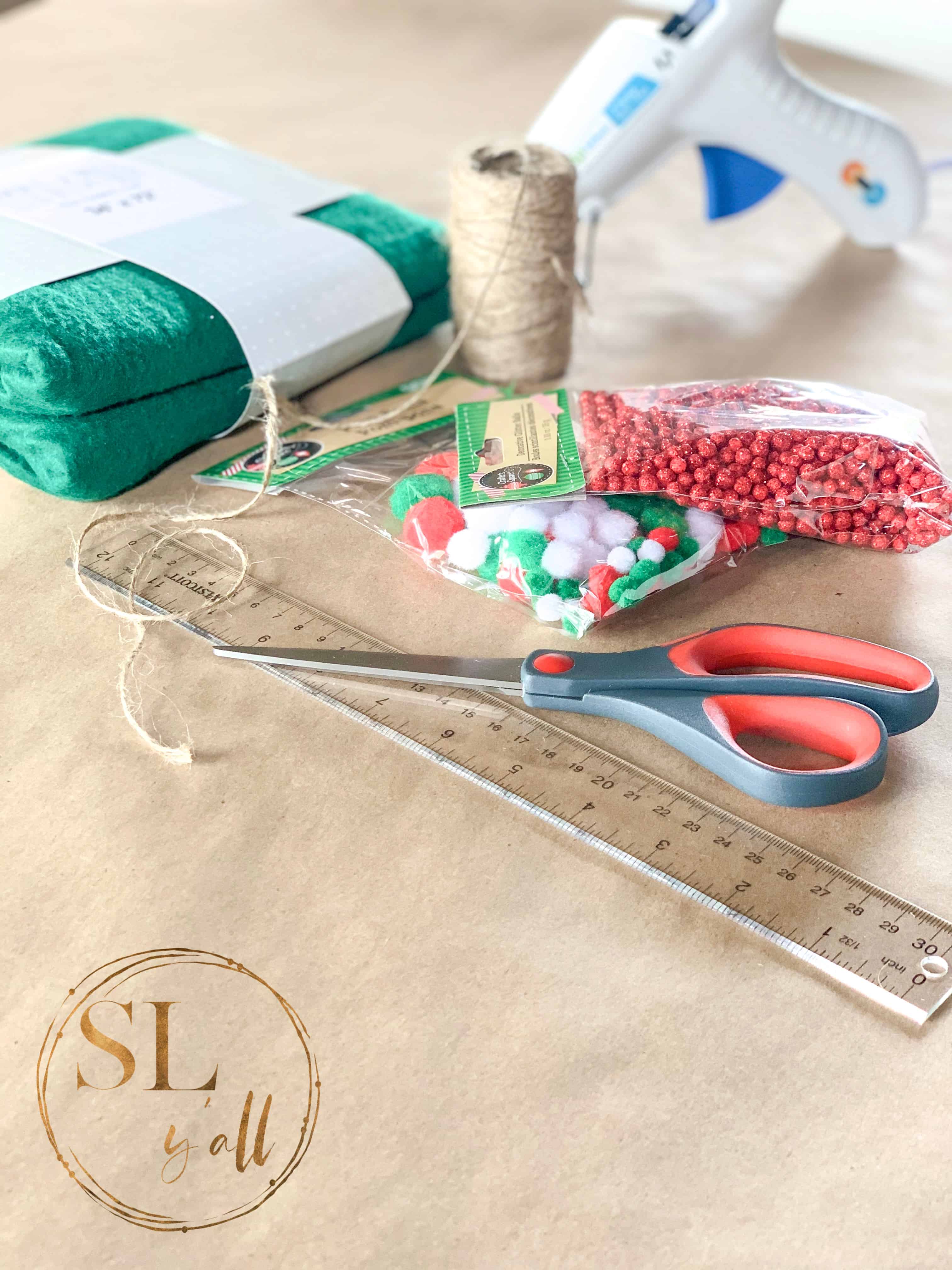 **In the image, I show a package of red beads. I was going to make some of these using the red but loved the white so much, I changed my mind. I do think these would be lovely with the red accents.
Green Felt – for this project I used the Mila and Emma dark green felt that I picked up from Walmart. I had kelly green in my craft supplies but wanted a richer color for my tree but I think sage green would also work nicely.
Small White Pom Poms – for this project I picked up a multi-colored pack from my local Dollar Tree.
Leaf Template – As you can see, I drew this template by hand and cut several.
Jute twine – I love the rustic look of this twine.
Glue gun (I use a dual temp full-sized)
Glue sticks
Scissors
Pins
Ruler – this is really optional
Love Christmas crafting? Check out this post on creating Rustic Gnome Ornaments.
How To Make Farmhouse Felt Leaf Ornaments
STEP 1 – Draw out your leaf template and cut several to use in this project. As you can see from the image, there was no exact science to creating this template. ?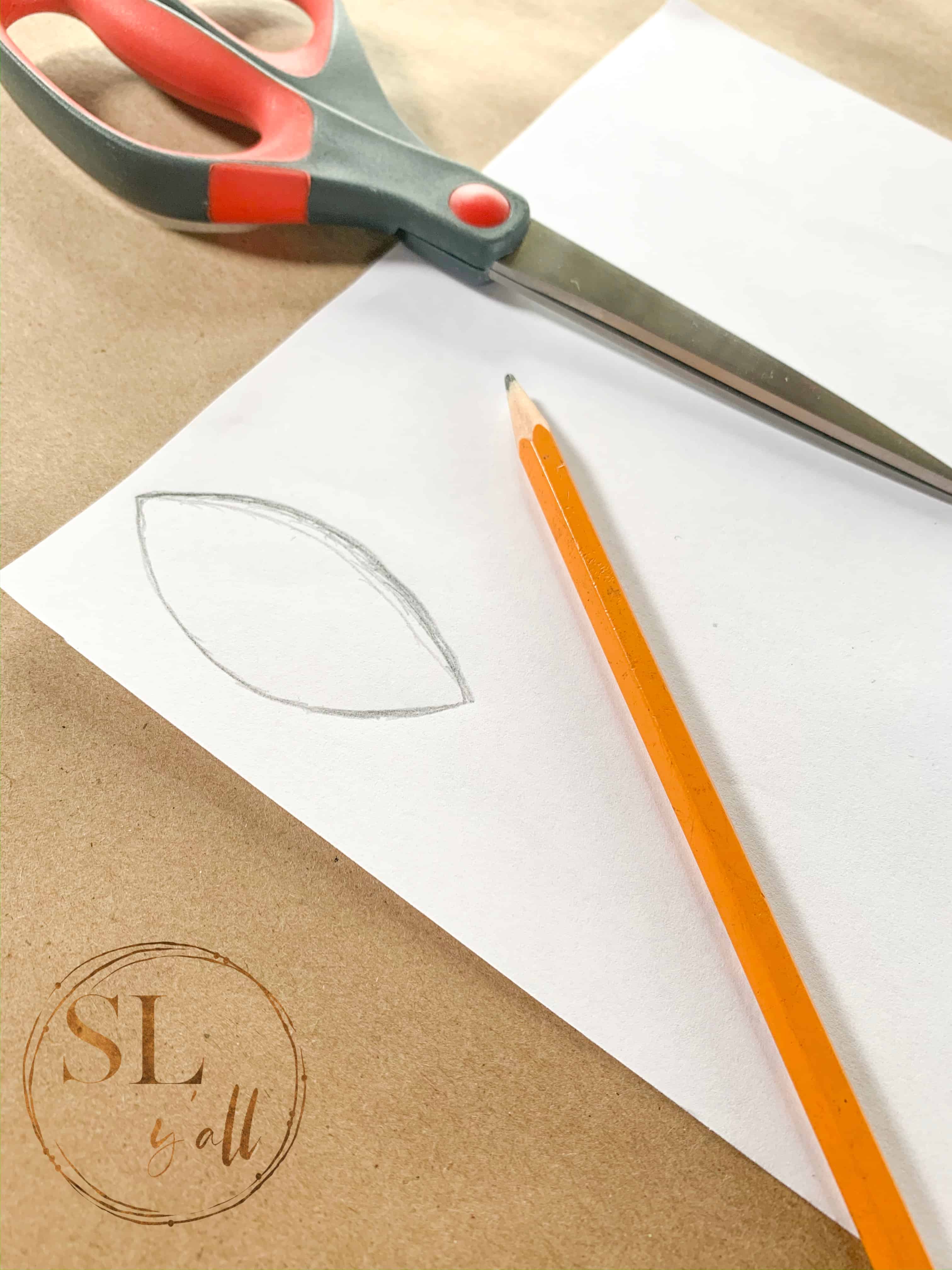 STEP 2 – Fold your felt in half and lay out a row of your leaf templates pinning each in place. Cut your desired amount of leaves using 3 leaves for each ornament.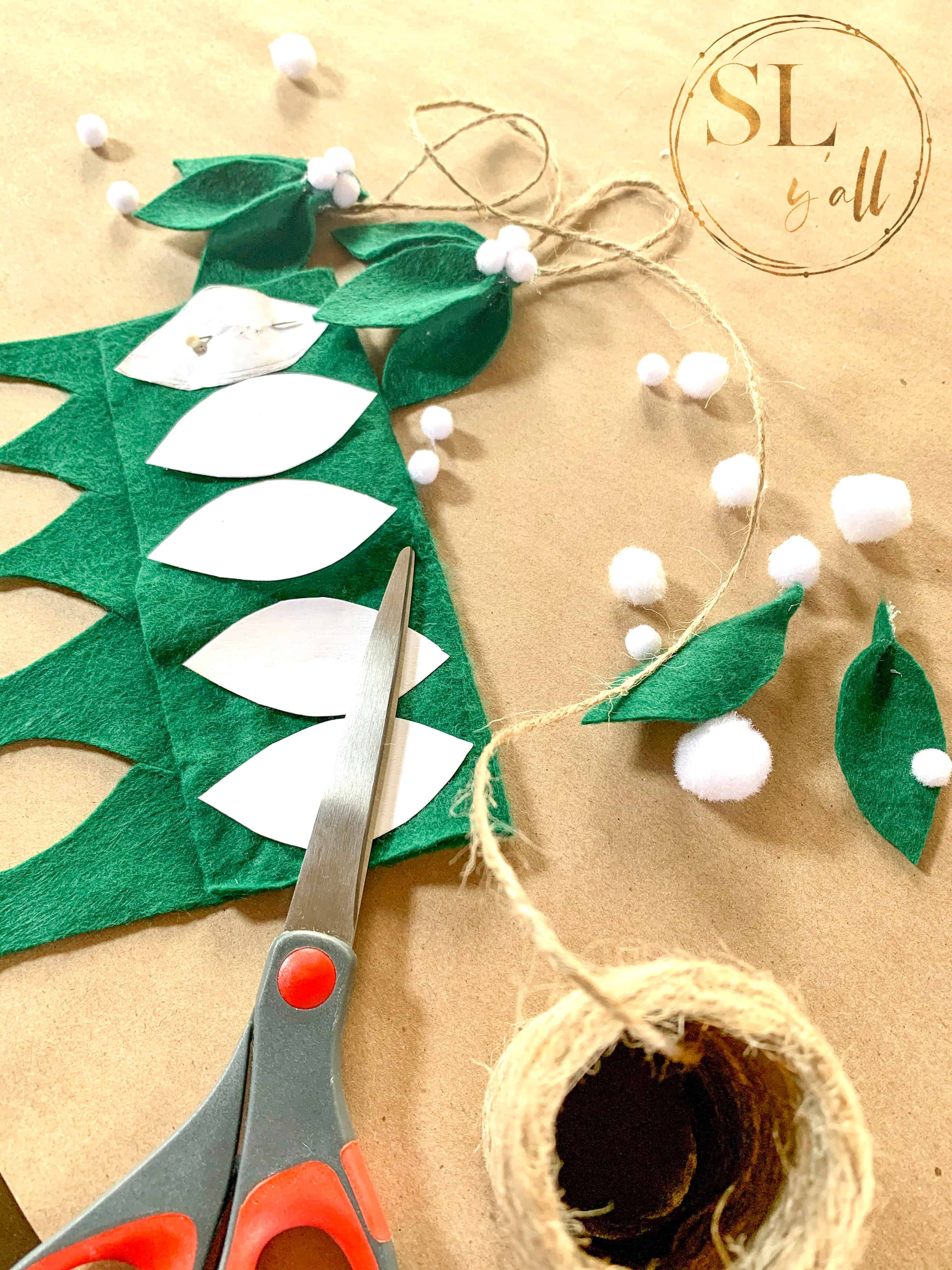 STEP 3 – Plop a small drop of glue in one of the points of the leaf and then squeeze together. Be very careful not to burn your fingers. When working with fabric, I keep my glue gun set to the low temp setting which helps lessen the chance of burned fingers. But for just in case, it is helpful to have a small glass of water near to dip your fingers if they do get a little toasty.
Repeat this step until all of your leaves are glued into shape.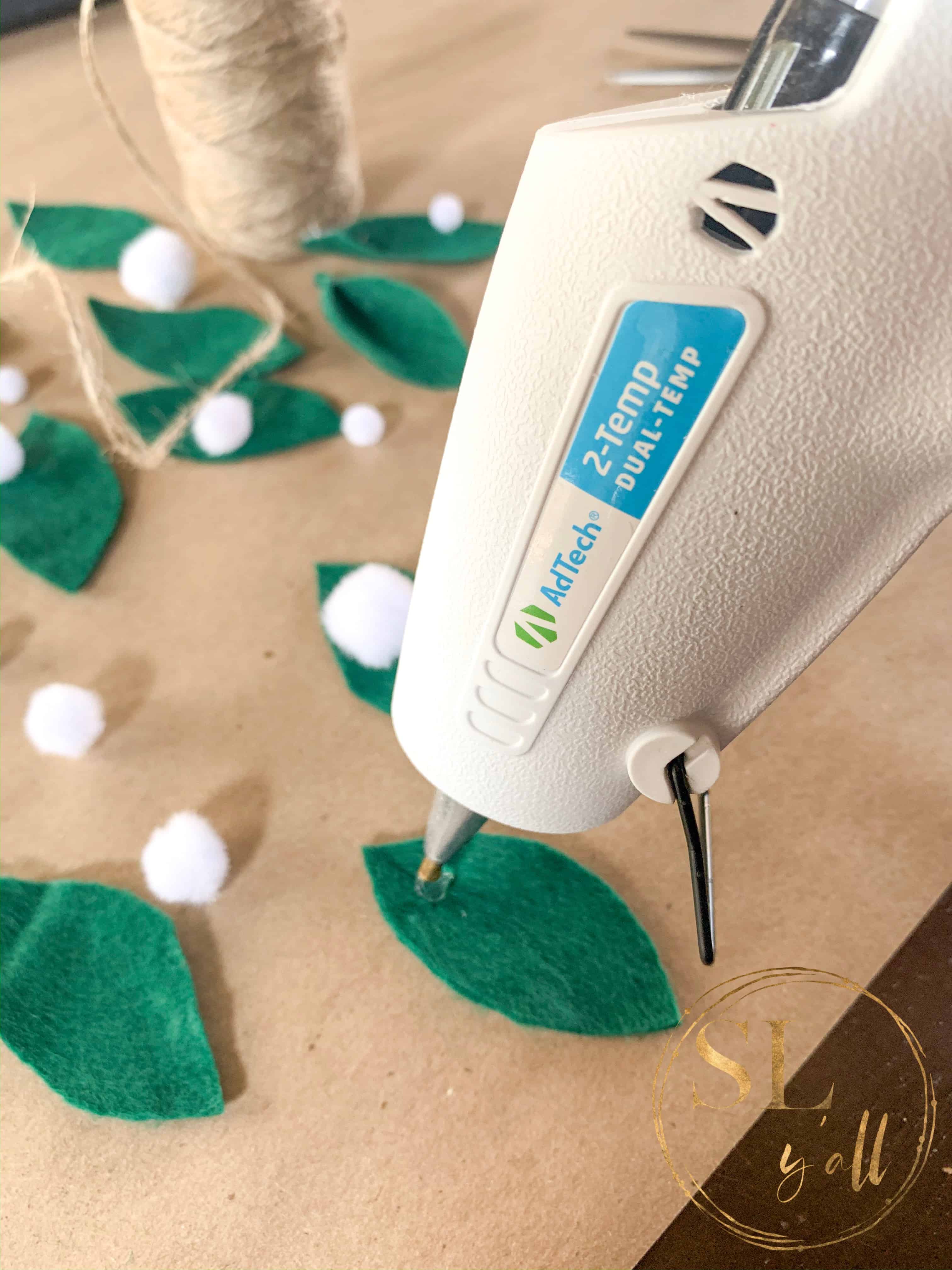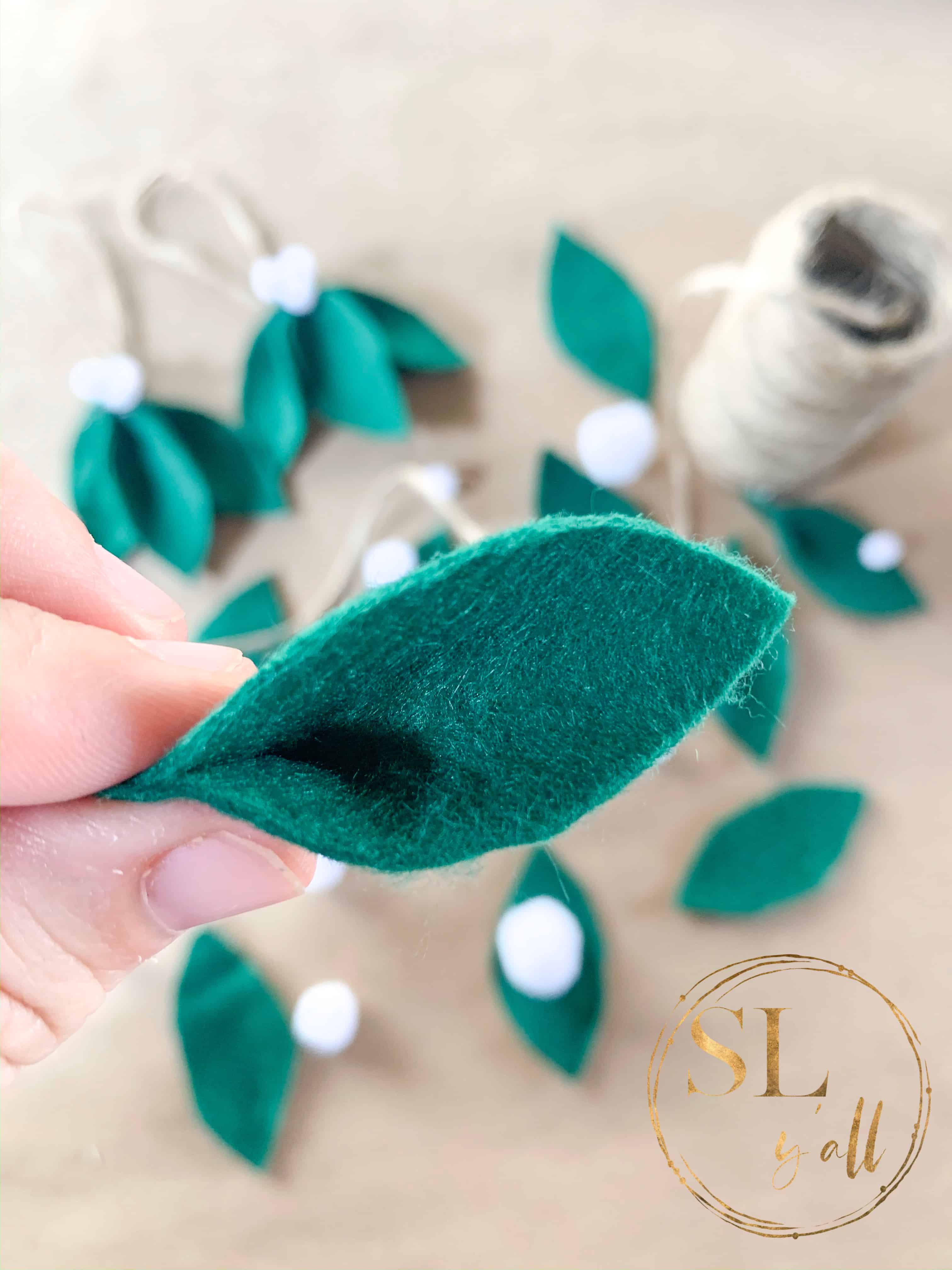 STEP 4 – Glue your leaves into groups of three. Repeat this step using all of your leaves.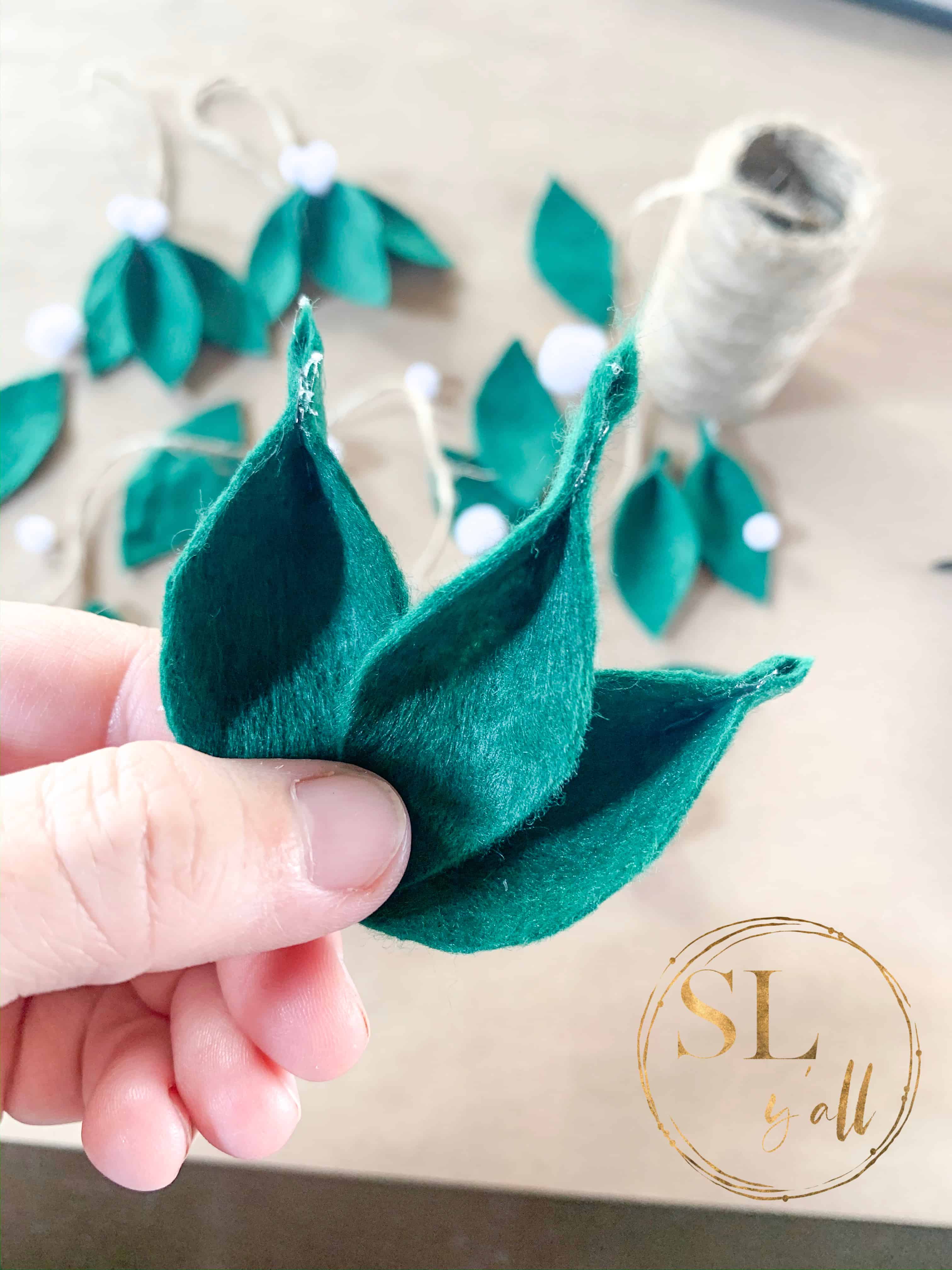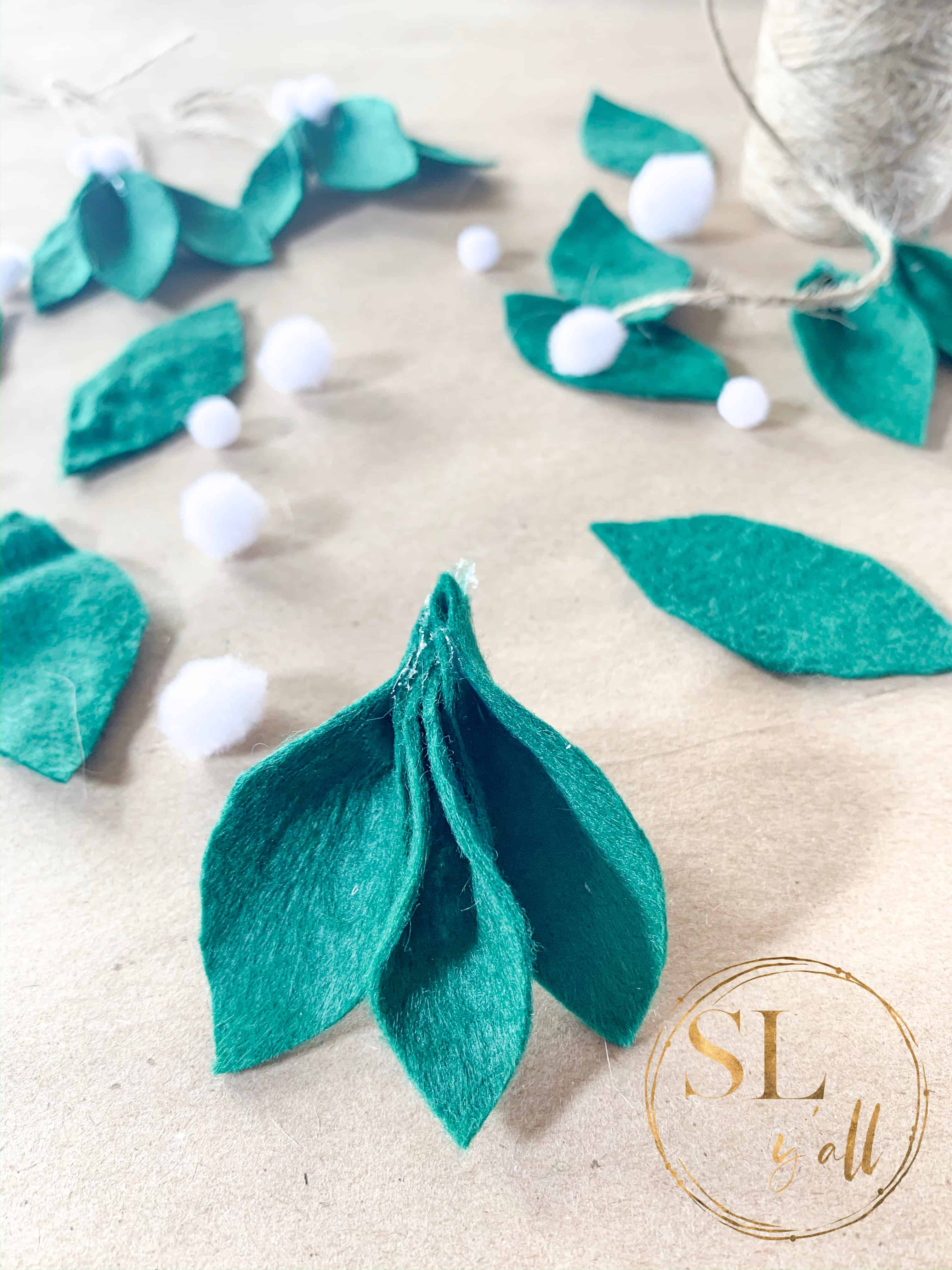 STEP 5 – Cut approximately 8″ of jute for each group of leaves and tie a knot with the cut ends forming a loop. Flip your leaf groups over and glue the knotted ends of jute to the backside. Repeat this step until all leaf groups have been used.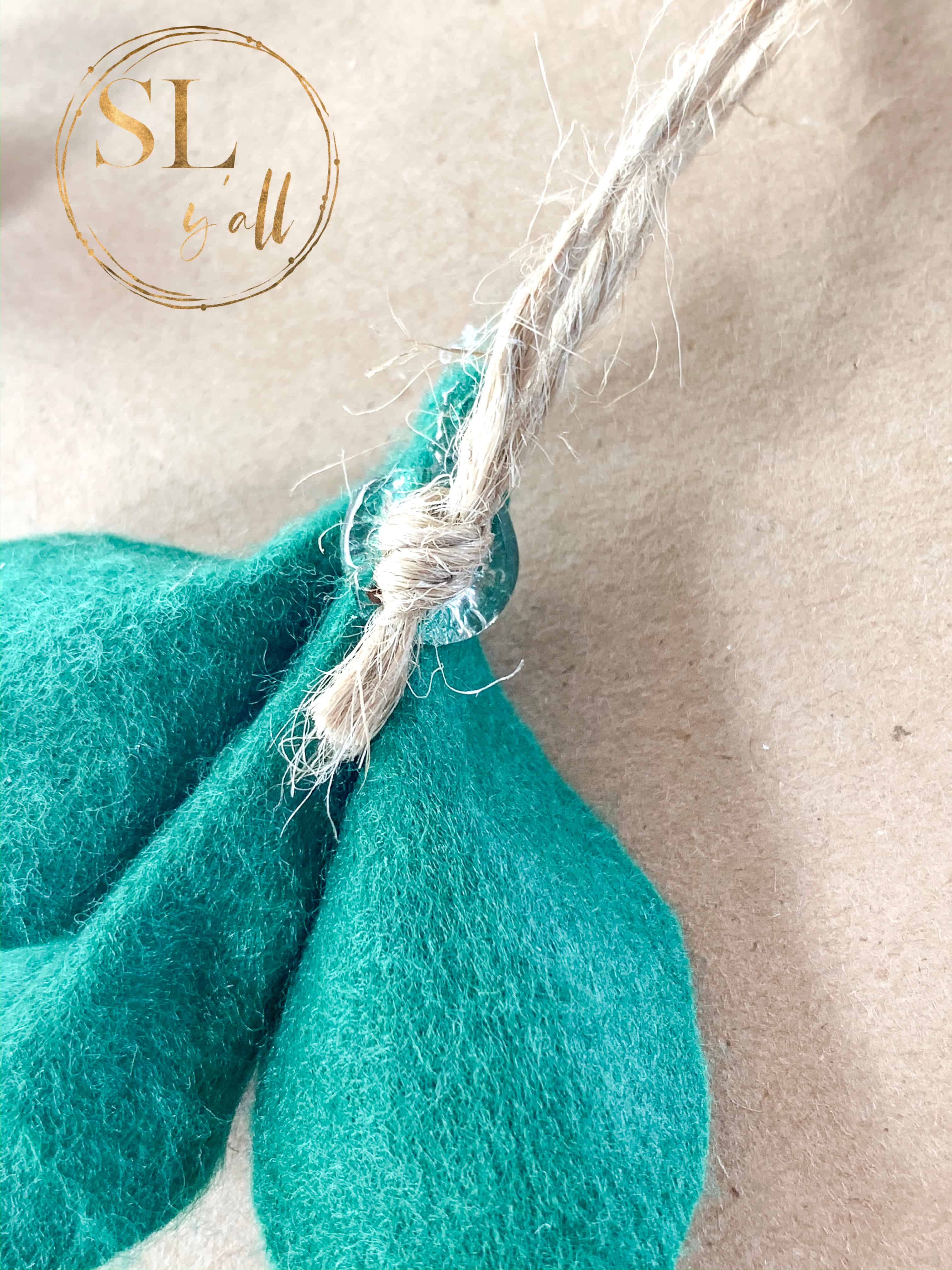 STEP 6 – Glue three of your pom poms to the top of the leaf groups. I used a triangle formation for the white berries. Repeat until all ornaments are completed.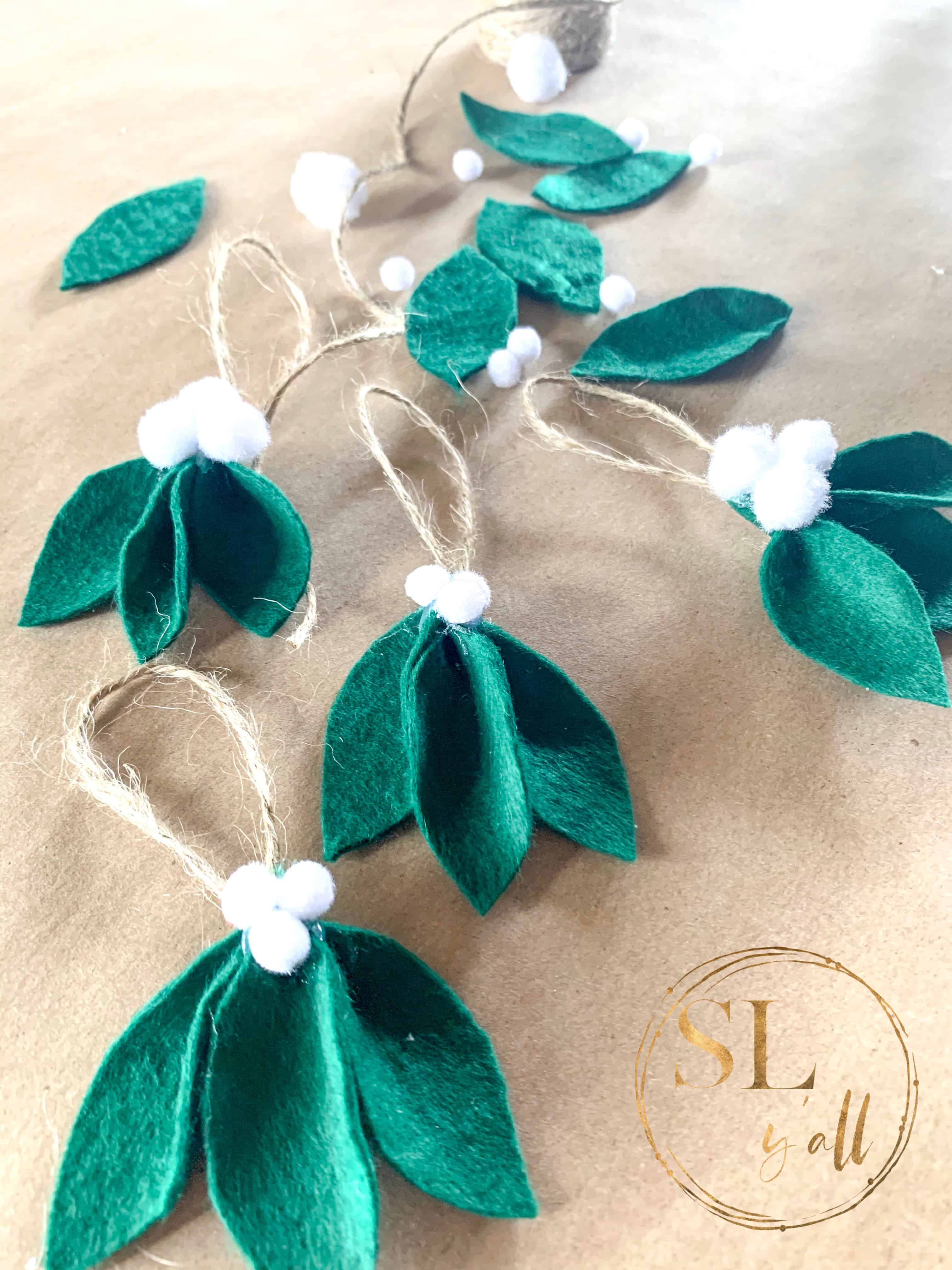 If you would like to create a garland with the felt greenery, just cut two lengths of your jute to the desired length. I usually measure the length that I need and add an additional 6″ to allow for the knotted ends and error of size. Follow the steps to create the ornaments skipping the jute loops.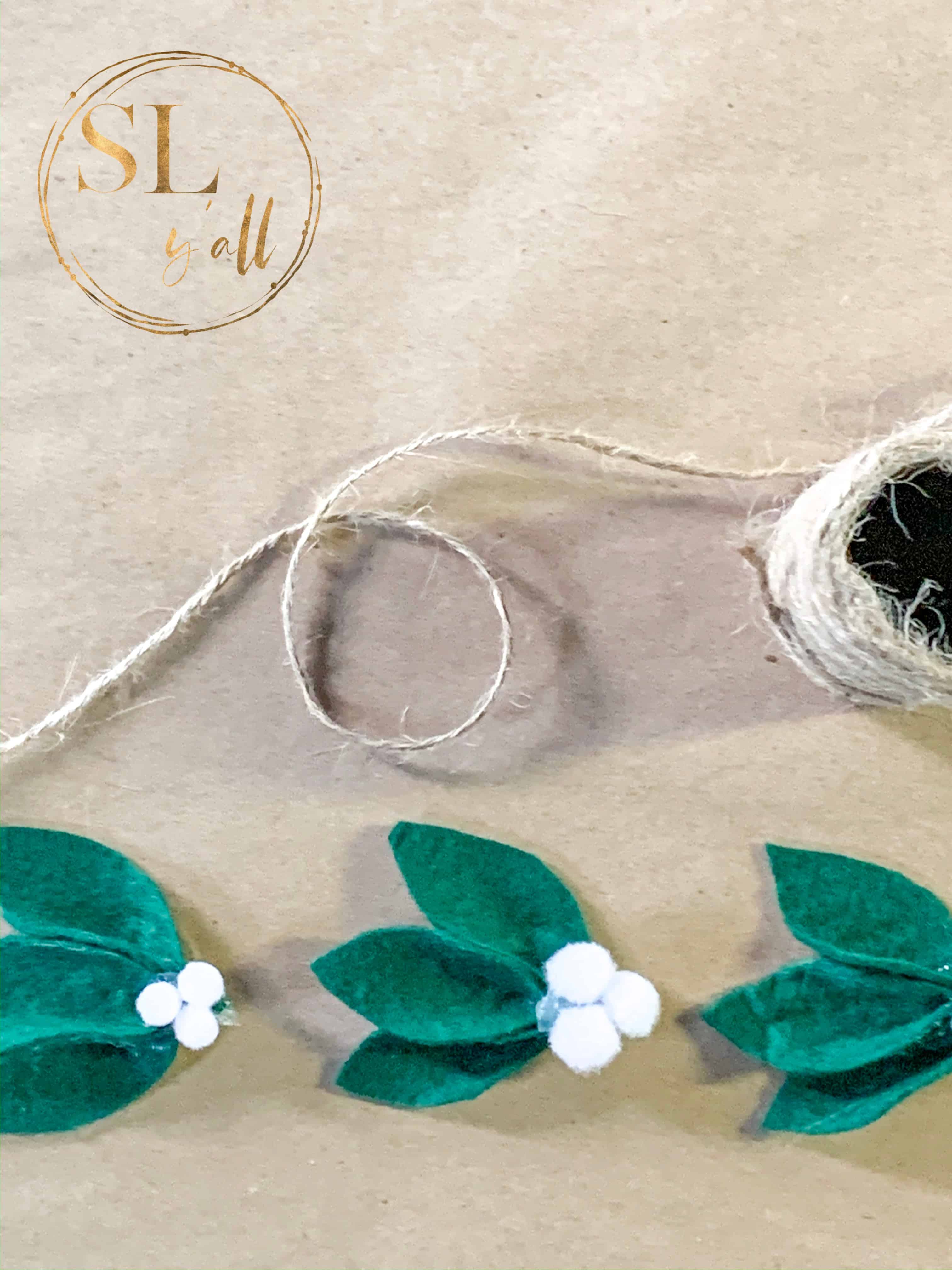 Decide on your spacing for your garland and layout your leaf groups. Glue each leaf group into place. I eyeballed this and am pleased with the results but you can measure if you would like exact spacing.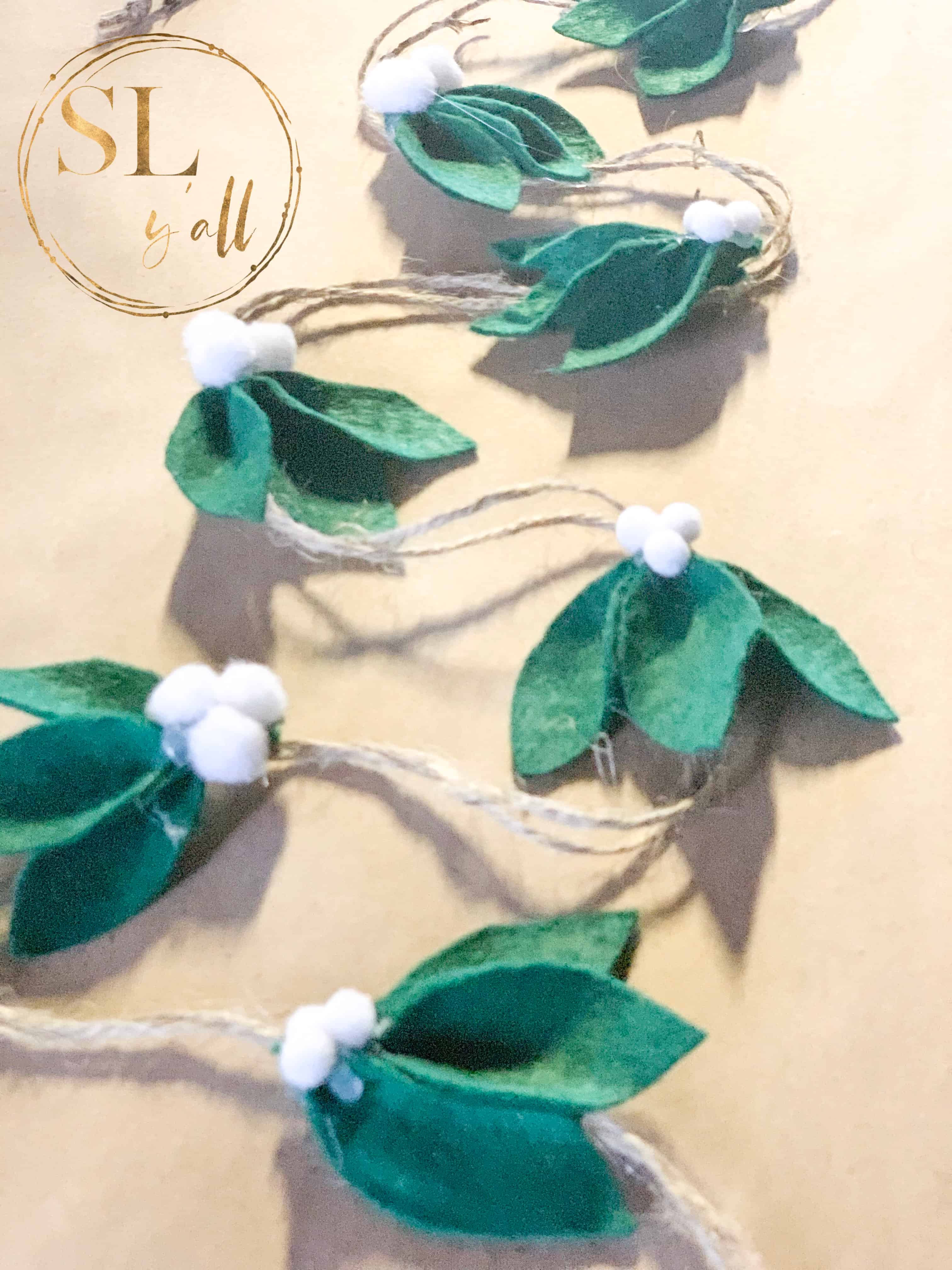 And there you have it! Quick, easy, and oh so rustic way to make Farmhouse Felt Leaf Ornaments.
These will be perfect scattered throughout your tree, used as a garland over your fireplace, or an added touch to your gift wrapping.
Let me know how you plan to decorate with your leaves.
Want to learn how to budget your money for Christmas? THIS POST will help you create the perfect plan to avoid the holiday hangover in January.